U.S. Boosts Pakistan Flood Aid to $150M, Clinton Pledges Sustained Support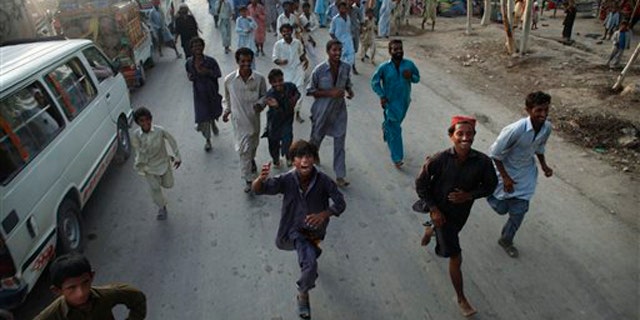 The United States government has increased aid to flood-ravaged Pakistan to $150 million, with Secretary of State Hillary Clinton pledging to help protect "as many people as possible" as the rain continues to fall.
The U.S. contribution helped the United Nations meet its target of close to a half-billion dollars in international assistance.
The floods began July 29 in the northwest part of the country and have since swamped thousands of towns and villages. The Pakistani and U.S. armies, as well as local and international aid groups, have responded by providing food, shelter, water and medical care -- but the floods themselves make this work hazardous and chaotic.
Clinton, in an interview with Pakistan's Dawn TV, said "we are doing everything we can to rush relief supplies in," but she said the operation is mostly limited to dropping food and trying to rescue people until the waters recede.
"We have to summon the resources to respond to this terrible disaster in Pakistan and then work with the people and the government of Pakistan to help repair the damage when the flood waters finally recede," she said. "It's very difficult to mount a relief effort of the size required when the disaster is ongoing."
Clinton urged Americans to individually donate, on top of the U.S. government package. The State Department has once again set up a text message donation system -- individuals can text the word FLOOD to 27722 to give $10 via cell phone. Donations can also be made through the State Department website at www.state.gov/pakistanrelief.
The European Union has raised it pledge to more than $180 million. Britain just doubled its contribution to almost $100 million. The U.S., already the largest individual donor, increased its aid by $60 million.
The Associated Press contributed to this report.