Top senator expands probe into Obama-era Uranium One deal, says he was misled
A top Republican senator has expanded his investigation into an Obama-era deal that gave Russia partial control of the U.S. uranium supply, claiming he was repeatedly misled by the Obama administration about a Russian company's ability to export that material.
Sen. John Barrasso, R-Wyo., chairman of the Senate Committee on Environment and Public Works, fired off a letter Monday to the heads of the U.S. Energy Department and U.S. Nuclear Regulatory Commission seeking an extensive list of documents.
He wants to know more about the controversial sale of Canadian mining company Uranium One to a subsidiary of Russia's Rosatom nuclear company – and specifically, how uranium under its control made its way out of the U.S.
"Beginning in 2012, Uranium One exported U.S. uranium by 'piggy-backing' as a supplier on an export license" held by a shipping company, Barrasso wrote.
That's apparently not how the process was explained to him when he first raised concerns.
Back in 2011, then-NRC Chairman Gregory Jaczko assured the senator that the companies did not hold a specific "NRC export license" and would not be able to export uranium from the U.S. without one.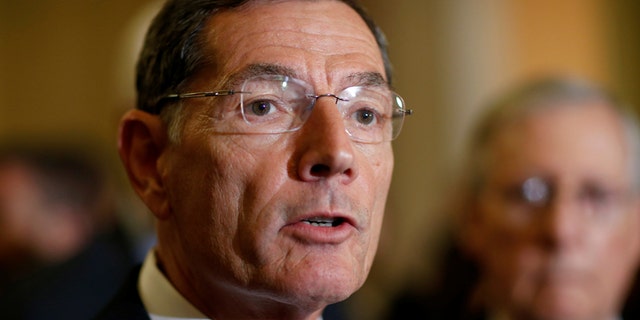 Yet The Hill reported last month that while the NRC never issued the license, memos show it did approve "the shipment of yellowcake uranium" from the U.S. mines to Canada in 2012 through a "third party." The same report said the Obama administration later approved some of that material to go to Europe, "and the approval involved a process with multiple agencies."
Barrasso, in his letter, said the response he got from Jaczko was "misleading."
Further, he said the Department of Energy "chose to hide its role in approving exports," by claiming at the time the issue did not fall within its "purview."
"By stating DOE had no role in the matter, the DOE concealed the possibility of subsequent exports and their responsibility in reviewing them," Barrasso wrote. "The DOE's concealment, together with Chairman Jaczko's deception, created a false narrative that there was only one agency and one process by which Uranium One could export uranium."
The Hill report described an alternative way of approving those exports. It said that the NRC, rather than grant a direct export to Rosatom, in 2012 "authorized an amendment to an existing export license" for a trucking firm "to simply add Uranium One to the list of clients whose uranium it could move to Canada."
Barrasso's letter included dozens of requests for information to both agencies, covering documents related to each uranium transfer. He set a Jan. 31 deadline.
Asked for comment, an NRC spokesperson told Fox News: "The NRC will respond directly to Senator Barrasso through our normal correspondence." The spokesperson noted current Chairwoman Kristine Svinicki will be testifying Wednesday before Barrasso's committee, "so the subject may come up then."
The Uranium One deal, which was covered extensively in 2015, burst back into the headlines in October, after The Hill reported the FBI had evidence as early as 2009 that Russian operatives used bribes, kickbacks and other dirty tactics to expand Moscow's atomic energy footprint in the U.S., related to a Rosatom subsidiary. Republican lawmakers on Capitol Hill quickly started asking questions about how the deal was approved the following year by an inter-agency committee.
While scrutinizing the 2010 approval, Republican lawmakers have also revived questions that first surfaced in 2015 about payments to both Bill Clinton and the Clinton Foundation from "interested parties."
Addressing the matter on C-SPAN in October, Hillary Clinton said "it's the same baloney they've been peddling for years, and there's been no credible evidence by anyone. In fact, it's been debunked repeatedly and will continue to be debunked."
The 2016 Democratic presidential nominee said these issues are just part of the "distraction and diversion" from the investigation into Russian meddling and possible coordination with Trump associates in last year's election.