Ted Cruz warming up to Donald Trump, aides suggest he may endorse him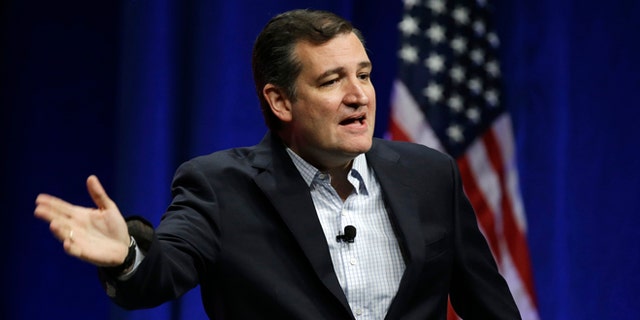 NEWYou can now listen to Fox News articles!
It seemed nearly impossible after his primetime speech at the Republican National Convention in July, where he famously did not endorse the presidential nominee Donald Trump.
But now Sen. Ted Cruz, who came closest in the GOP primary to gaining on Trump for the nomination, is indicating he may officially back his one-time rival, according to the Washington Examiner.
Recently, Cruz said in a CNN interview that he is committed to making sure that Democratic nominee Hillary Clinton does not win in November.
Cruz's campaign manager during the GOP primary, Jeff Roe, indicated to Bloomberg News that the senator really has little choice but to back Trump.
Roe added that Trump has made moves lately that the senator views as appealing, prompting him to consider endorsing the billionaire.
"He thinks about it every day," Roe said.
Trump is also appearing a bit kinder and gentler toward Cruz, with his campaign website issuing a statement supporting efforts to stop President Barack Obama from giving up U.S. control over aspects of the Internet, such as domain names, to international overseers.
Trump's statement did not name Cruz, but Cruz has been a spearheading force behind the move to block Obama from proceeding on the change in U.S. control.
"The Republicans in Congress are admirably leading a fight to save the Internet this week, and need all the help the American people can give them to be successful," said Stephen Miller, Donald Trump's national policy director, on the candidate's website. "Hillary Clinton's Democrats are refusing to protect the American people by not protecting the Internet."
Cruz noted the overture, tweeting: "Appreciate @realDonaldTrump's support of our efforts to keep the Internet free."
The Examiner said that Cruz spokeswoman Catherine Frazier indicated the senator is still weighing whether to endorse Trump.
The latest softening by Cruz toward Trump is being closely watched by anti-Trump conservatives who had taken pleasure in the senator's high-profile apparent rejection of the presidential nominee.
They are concerned that Cruz will do an about-face and back the real estate mogul, who alienated the senator during the increasingly nasty primary fight, in which he said derogatory things about Cruz's wife and father.
"There were thousands of people not in that arena who will be utterly disappointed that Cruz didn't maintain his principled stand for conservatism," the Examiner quoted Rick Tyler, Cruz's former campaign spokesman, as saying. "Endorsing now for no reciprocation? He would just end up being a Trump Chump."
Like us on Facebook
Follow us on Twitter & Instagram