Ted Cruz defiant after RNC speech: 'I'm not supporting people who attack my wife'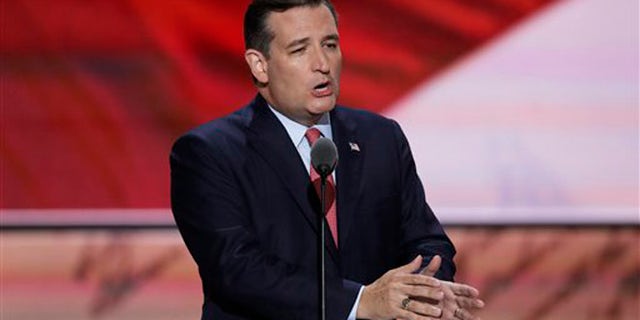 Cleveland – A day after Ted Cruz was booed off the convention stage after he failed to endorse GOP presidential nominee Donald Trump, the Texas senator remained defiant -- saying he is not a "servile puppy dog."
Cruz insisted he could not support anyone who wages personal attacks against his wife, Heidi.
Cruz spoke to the Texas delegation at a breakfast meeting, fielding questions from its members, and he explained his presence there despite the disastrous convention appearance by saying, "It would have been easy to turn tail and run, but that ain't going to happen."
He was reminded that earlier this year, at a Republican debate, Cruz enthusiastically said he would support the party's official nominee – whomever that turned out to be.
Cruz said he had "the full intention of doing that." But, he added, "this became personal. I'm not going to get into criticizing or attacking Donald Trump, but I am not in the habit of supporting people who attack my wife and my father."
"That pledge was not a blanket commitment that if you go and slander and attack Heidi, I'm going to nonetheless come like a servile puppy dog and say thank you very much for maligning my wife and my father," he added.
The response to Cruz and his refusal to blink in the face of the delegates' disapproval was taken as a blatant sign of disunity in prime time by the Trump campaign, with top adviser Paul Manafort saying Cruz "used very bad judgment" and was "not respectful to the invitation by the convention to come and speak."
Manafort told NBC's "Today" on Thursday morning that Cruz "understood what the responsibilities are, someone in his position."
For his part, Cruz told the Texas delegation that "when I addressed the convention, I did it because Trump asked me to, and when he did, he didn't ask me to endorse him."
The senator added, "When I spoke to him on the phone, I told him, 'I am not going to endorse you.'"
During the campaign, Trump repeatedly mocked Cruz as "Lyin' Ted," and took jabs at the appearance of his wife, a Goldman Sachs executive. Cruz responded by calling Trump a "sniveling coward."
Trump also made suggestions that Cruz's father had indirect links to John F. Kennedy's assassin, Lee Harvey Oswald.
Cruz finished second to Trump in the crowded Republican primary campaign and he was greeted on Wednesday night by a minute-long standing ovation.
While he congratulated the GOP nominee on his victory, the closest Cruz came to saying he wanted Trump to win the White House was when he said: "I want to see the principles that our party believes in prevail in November."
Cruz didn't tell the convention crowd that he plans to vote for Trump. Nor did he ask his supporters, hundreds of whom encouraged him to run for president in four years at an event on Wednesday afternoon, to vote for the newly minted Republican nominee.
As Cruz ended his remarks, and as the crowd of more than 2,000 delegates at the Quicken Loans Arena waited for Cruz to say something — anything — kind about Trump, he demurred.
"And to those listening, please, don't stay home in November," Cruz said. "Stand and speak, and vote your conscience. Vote for candidates up and down the ticket who you trust to defend our freedom and to be faithful to the Constitution."
The delegates responded with angry boos, and Cruz backer and former Virginia Attorney General Ken Cuccinelli escorted Heidi Cruz off the convention floor as she was heckled by Trump delegates.
But Trump said later on Twitter that Cruz's lack of an endorsement was "no big deal!" But he said Cruz "didn't honor" the pledge that Republican primary candidates had made to support the eventual GOP nominee.
The Associated Press contributed to this report.
Like us on Facebook
Follow us on Twitter & Instagram