Latino Trump supporters say they're shunned and 'unfriended' by other Hispanics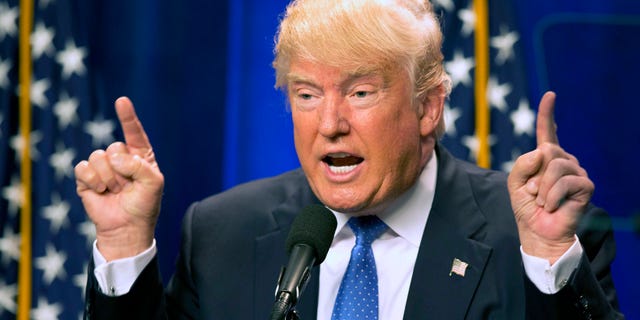 NEWYou can now listen to Fox News articles!
It might as well be a scarlet letter, but instead of the "A" that Nathaniel Hawthorne's scorned protagonist had to wear in shame, these ostracized individuals wear a virtual "T."
T for Trump.
They are Latinos who love Donald Trump, the presumptive GOP presidential nominee who has alienated a majority of the ethnic group with his calls for building a huge wall along the U.S.-Mexico border, saying a judge born in Indiana who's presiding over the Trump University fraud case is incapable of being objective because of his Mexican roots, and promising to create a deportation army of sorts that would expel all estimated 12 million undocumented immigrants.
They say that when other Latinos learn that they support Trump, they denounce them, shun them and "unfriend" them on social media, Politico reports.
"I don't want to put my face out to the public showing that I am for Trump," Rachel Larrea, a real estate agent from Florida, was quoted as saying.
"For safety reasons," she explained. "There's a lot of crazy people out there these days."
Trump Latinos have varied reasons for preferring the mogul to Democratic presumptive nominee Hillary Clinton.
Some like his hard line on immigration, viewing undocumented people as taking opportunities away from them, Politico observed. Others see his overall business experience as an advantage that will help him improve the U.S. economy. And still others, such as some Cuban-Americans, see him as standing tough against dictatorships – unlike Clinton, who has embraced the Obama administration's push to normalize relations with Cuba.
Many pro-Trump Latinos are firmly unapologetic about their choice for president, wearing T-shirts bearing his name, speaking on talk radio about the need for a wall along the borde, and going to rallies and proudly announcing on social media that they went.
Recently, dozens held a "coming out" party of sorts in South Florida, led by a group that calls itself, "Latinas for Trump."
They are on the margin, to be sure.
Trump often says that "Hispanics love me," or some variation of that, but the numbers don't reflect that. The mogul's unfavorability rating among Latinos is a stratospheric 87 percent.
Many political experts say that he must do better among Latino voters than 2012 GOP presidential nominee Mitt Romney, who got only 27 percent of their vote – considered by many a major factor in his defeat.
Trump supporters say there are many more Latinos than anyone realizes who silently back the mogul and will vote for him in November.
"It's a grassroots movement, and people haven't even seen it yet," said Gina Sosa, a retired business executive who is Republican and Cuban-American. "Some will be horrified. Some will be delighted."
Polls show Trump doing better than Romney among registered Latino voters with 32 percent. Clinton, however, is polling between 39 to 58 points ahead of Trump with the group, Politico noted.
"To a large degree, he's waged a war on the Hispanic-American community," Lorella Praeli, Clinton's director of Latino outreach, told Politico. "You can't show up at the eleventh hour and say 'Latinos like me,' or 'Hispanics love me,' and expect them to turn out and be for you."
Even so, Trump announced recently that he was hiring a deputy communications staffer who will focus on Hispanic media. Clinton and Sen. Bernie Sanders, the Vermont Democrat who remains in the race although Clinton appears to have mathematically locked up the necessary delegates, both have had Hispanic outreach staffers since they launched their campaigns.
The Republican National Committee had a Hispanic outreach staffer, Ruth Guerra, but the Mexican-American from Texas stepped down because, according to unnamed sources cited in the Washington Post and other media, she found it increasingly difficult to publicly defend Trump.
Trump's Miami-Dade County campaign manager, Ed MacDougall, told Politico that he is working with local Latino activists to build support for the candidate.
"We're tickled to death that they like Donald Trump, and they have put this together," he said.
Trump strategist Karen Giorno said that her candidate would carry Florida.
"I'm very confident that we have the votes to carry Florida," Giorno said. "I think it's going to be a blowout, to be honest with you."
Jose Perez, an Atlanta-based data analytics expert who is serving on the volunteer group Trump Diversity Council, said the Trump campaign needed to do more to connect with Latinos.
Some Latinas for Trump said they jumped aboard what the mogul dubs the "Trump Train" after other GOP candidates they preferred withdrew from the race.
"Once Rubio was gone, I was going to support whoever got the nomination," said Vivian Castro, a lifelong Republican from Florida. "It could have been Ted Cruz. It could have been Kasich. It happens that it's Trump, so I'm backing him."
Like us on Facebook
Follow us on Twitter & Instagram