Report: RNC's Hispanic media chief resigns amid disillusionment over Trump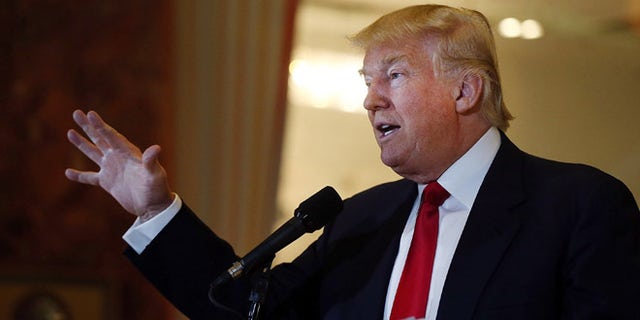 NEWYou can now listen to Fox News articles!
The head of Hispanic media relations with the Republican National Committee has stepped down from her post.
Ruth Guerra, a Texan of Mexican descent, has left the RNC communications team to join the American Action Network, a Republican-aligned "super PAC," she told the New York Times late on Wednesday.
While Guerra guarded her comments with the New York Times, two RNC aides who requested anonymity to speak candidly told the newspaper that she had made it clear to colleagues that she was uncomfortable working for Trump.
The 28-year-old's move from the RNC to the AAN is a rare move in the midst of a heated presidential campaign, but follows the departure of a number of other Republican aides who have left the party or started looking for new work since it became apparent that Trump will be the party's presidential nominee.
A Fox News Latino poll found that 62 percent of registered Latino voters would head to the ballot box for Clinton in November, while only 23 percent would support Trump on Election Day
Guerra did not return phone calls from Fox News Latino seeking comment.
"I am proud of having been part of the RNC for nearly two years and the unprecedented work it has done to engage Hispanics across the country," she said in a statement to the Wall Street Journal. "I'm excited about my new opportunity with American Action Network to continue promoting conservative policies and ensure we maintain the majority in the House."
Pablo Manriquez, who until recently was Guerra's counterpart in the Democratic National Committee, credited Guerra with helping push Latino issues within her party and said her departure is a sign of the disillusion that many minority officials at the RNC feel now that Trump is the presumptive nominee.
"The minority flight at the RNC is totally Trump related," he said.
Trump's campaign rhetoric, especially in regards to immigration, has alienated the presumptive Republican nominee from many Latinos and bucked Republican efforts to win over the crucial voting bloc.
Since declaring his candidacy last summer, a cornerstone of Trump's campaign has been that he will crack down on illegal immigration and has vowed to have a mass deportation to expel the estimated 11 million undocumented immigrants living in the United States.
Trump has also attacked Mexico as a country that dumps drug dealers and other criminals along the U.S.-Mexico border and has promised to build a huge wall that he says he will force Mexico to pay for.
The RNC has replaced Guerra with former journalist and Miami radio host Helen Aguirre Ferré.
"Helen will be an integral part of our Party's ongoing commitment to build relationships and communicate our message directly with Hispanic voters," RNC Chairman Reince Priebus said in a statement. "Her wealth of experience is complemented by a keen strategic vision, top-notch communication skills, and outstanding leadership qualities, and she is going to be a tremendous asset to the RNC as we seek to stop Hillary Clinton and elect a Republican president."
In the past, Aguirre-Ferré – whose father-in-law is Maurice Ferré, Miami's first Hispanic mayor – hosted a national radio program on Univision America Radio and also moderated the weekly public affairs show in Florida called "Issues with Helen Ferré." She has also been a regular guest on Miami's NBC6, Newsmax, Univision and Telemundo networks, among others and most recently served as a senior advisor to former Florida Gov. Jeb Bush's campaign for president.
"I am proud to be joining the RNC at such a critical time," Aguirre-Ferré said in a statement. "This is one of the most important elections of our lifetime, and I'm eager to make the case to the Hispanic community why Republican ideas and values are the way forward for our country after eight years of an Obama agenda which has failed all Americans."