Perez enters DNC leadership race as Ellison faces pushback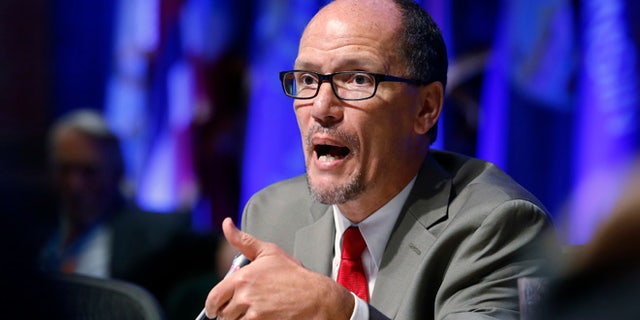 Labor Secretary Tom Perez shook up the Democratic National Committee leadership race on Thursday by officially announcing his bid for chairman -- challenging front-runner Rep. Keith Ellison.
"Now more than ever, I believe we need a full-time chair who can inspire people, grow our party and speak to its broad tent," Perez said in a statement, in an apparent swipe at Ellison's initial waffling over whether he'd step down from the House to lead the DNC full-time. He added, "And we need a chair with the leadership and management experience to protect the progress we've made and keep us moving forward."
Perez' entry into the leadership race, if he gains traction, could serve to stir up party tensions from the primary season. Perez endorsed Hillary Clinton and at one point was vetted to be her running mate. Ellison aligns more with the party's left flank and had endorsed Bernie Sanders in the primary.
The next chairman will serve as a counterweight to President-elect Donald Trump and have a hand in rebranding the party that lost the Oval Office and failed to retake the Senate or House in November. Perez suggested he might be able to give the party broader appeal in that effort.
"We have a lot of fighting to do. We have a lot of advocating to do. And I've been doing that all my life," Perez said Thursday.
Perez will face off in February against Ellison, South Carolina Democratic Party Chairman Jamie Harrison and New Hampshire Democratic Party Chairman Ray Buckley.
Minnesota Rep. Ellison, who was the favorite going into the race, is the first Muslim elected to Congress. He has the backing of Sanders, progressive firebrand Sen. Elizabeth Warren and incoming Senate Minority Leader Charles Schumer.
"When the DNC opened up, (Sanders) called me and said we need to make the DNC not a fundraising and political organization but a true organizing tool," Schumer told The Washington Post in December. "I said, 'You're exactly right.' And he says, 'The guy to do it is Keith Ellison.'"
At a campaign event, Sanders praised Ellison as someone who could promote change within the Democratic Party. Ellison also is backed by major labor unions and several progressive groups that supported Sanders during the primaries. The five-term congressman has crisscrossed the country in recent weeks meeting some of the 447 voting DNC members who will cast their vote in February.
After initial hesitation, Ellison also pledged to quit his House seat if he is elected chairman.
But Ellison is not without controversy.
He faces some pushback from Jewish groups and others who have taken him to task for his support of the Nation of Islam when he was younger and his criticism of Israel's treatment of Palestinians.
J Street, a liberal Jewish advocacy group, has defended Ellison. J Street President Jeremy Ben-Ami wrote in a Washington Post piece that Ellison's positions are "consistent with those of the large majority of Jewish Americans."
The Republican Jewish Coalition countered by saying J Street was "moving even further out of the mainstream with their support for Keith Ellison," according to The Washington Free Beacon.
Perez, a prominent Hispanic Democrat, served as assistant attorney general for civil rights in the Obama Justice Department before being tapped for Labor secretary. Before that, he served on the Montgomery County Council in Maryland.