Obama Calls Israeli Settlement Building in East Jerusalem 'Dangerous'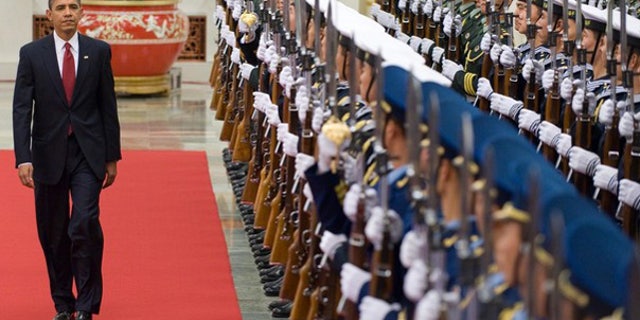 President Obama on Wednesday called it "dangerous" that Israel plans to add 900 new apartments to an existing Jewish settlement in East Jerusalem -- an area Palestinians hope to claim as their capital absent a peace agreement with Israel.
Israeli Prime Minister Benjamin Netanyahu said Tuesday that building permits were permitted for construction in Gilo for what would be upscale dwellings in the lower-middle class neighborhood.
"The situation in the Middle East is very difficult, and I've said repeatedly and I'll say again, Israel's security is a vital national interest to the United States, and we will make sure they are secure," Obama told Fox News in an interview in China Wednesday.
"I think that additional settlement building does not contribute to Israel's security. I think it makes it harder for them to make peace with their neighbors. I think it embitters the Palestinians in a way that could end up being very dangerous," he added.
The U.S. administration has roundly criticized the decision to expand the settlement, a point of bitter contention for Palestinians who wish to make the Old City of Jerusalem as well as other sites holy to Jews, Muslims and Christians as part of its capital.
That vision is part of a roadmap to a two-state solution that the Palestinians this week have abandoned in hopes of getting pre-emptive U.N. approval for a state that includes East Jerusalem as its capital as well as the West Bank and Gaza.
White House Press Secretary Robert Gibbs issued a statement Tuesday afternoon saying it is dismayed at the decision to move forward on the approval process for the expansion of Gilo.
"At a time when we are working to re-launch negotiations, these actions make it more difficult for our efforts to succeed. Neither party should engage in efforts or take actions that could unilaterally pre-empt, or appear to pre-empt, negotiations. ... Our position is clear: the status of Jerusalem is a permanent status issue that must be resolved through negotiations between the parties," Gibbs said.
Obama's remarks came during a one-on-one interview with Fox News' Major Garrett. In the extensive interview, Obama said that he still expects to close the Guantanamo Bay detention camp next year even though his administration is widely expected to miss its self-imposed January 2010 deadline for shuttering the Cuba facility.
Watch the Fox News interview with Obama at 6 p.m. ET on "Special Report With Bret Baier."
"We are on a path and a process where I would anticipate that Guantanamo will be closed next year," he said. "I'm not going to set an exact date because a lot of this is also going to depend upon cooperation from Congress."
Economic issues, however, were on the front-burner in China, which is the United States' biggest government lender.
The president is in Beijing as part of his tour through several Asian countries to address economic challenges. He spoke candidly about the precarious balancing act his administration is trying to perform. He wants to spend money to kick-start the economy, but at the same time is in danger of creating too much red ink.
Obama warned the United States' climbing national debt could drag the country into a "double-dip recession," though he said he's still considering additional tax incentives for businesses to reverse the rising unemployment rate.
"There may be some tax provisions that can encourage businesses to hire sooner rather than sitting on the sidelines. So we're taking a look at those," Obama told Fox News' Major Garrett.
"I think it is important, though, to recognize if we keep on adding to the debt, even in the midst of this recovery, that at some point, people could lose confidence in the U.S. economy in a way that could actually lead to a double-dip recession."
And the president said that despite the federal government's massive stake in General Motors, his administration will not weigh in on the possibility that GM could direct bailout funds toward its European Opel unit.
"We are not going to meddle in GM's decisions," Obama said. "We are a shareholder but we are not an active shareholder. We have specifically said that we are not in the business of running a car company. We're not getting involved in day-to-day management."
He said the Detroit automaker owes the U.S. government money, but that "we want to get out of that business as soon as possible" and encourage repayment.
Obama said he will speak to South Korean President Lee Myung-bak, whom he will hold a summit with on Thursday, about the pending trade agreement between the two countries but stopped short of committing to closing the deal next year.
"Well, the question is whether we can get it done in the beginning of 2010, whether we can get it done at the end of 2010," he said. "There's still some details that need to be worked out. Overall I think it's a potential good deal for U.S. exporters. But there's certain sectors of the economy that aren't dealt with as effectively and that's something that I'm going to be talking to "President Lee about."