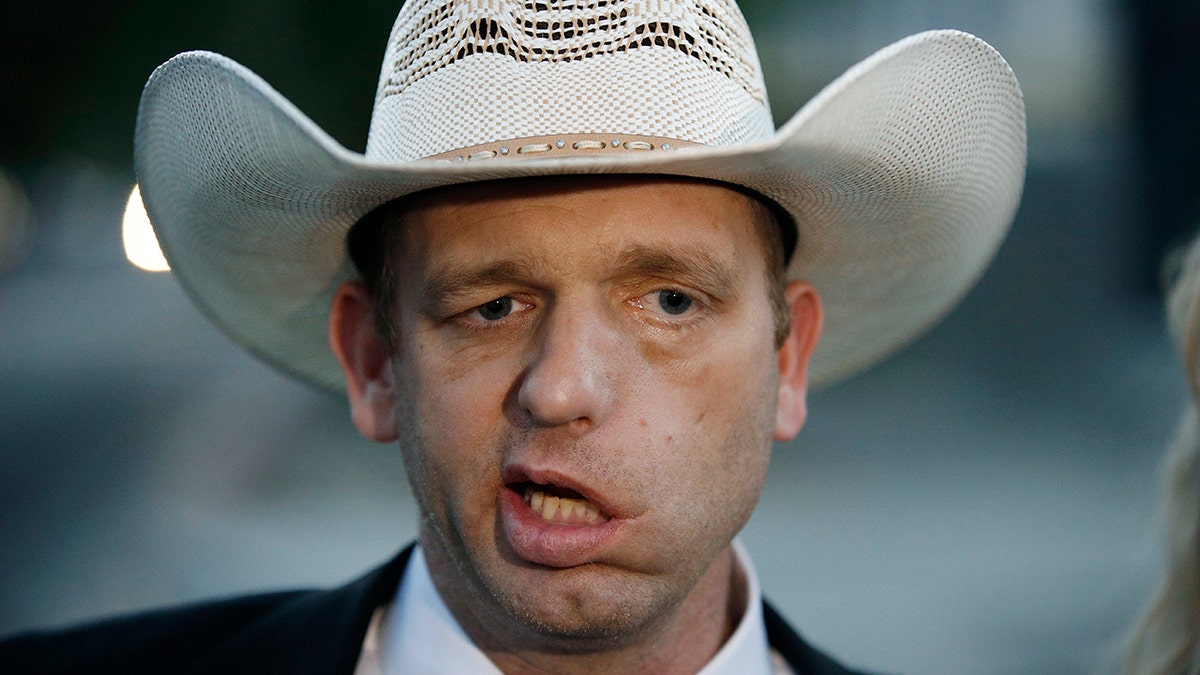 Rapists should be punished with rape and murderers should in turn be killed, Nevada gubernatorial candidate Ryan Bundy's campaign website briefly stated. The controversial "rape for rape" crime policy was met with swift outrage.
Bundy, who is running as an independent for governor, is a part of a family infamously involved in two armed standoffs with U.S. agents over federal ownership of public land.
"Instead of paying for ineffective jail sentences, Ryan Bundy proposes to The People of Nevada a more efficient retribution process: 'eye-for-an-eye.' If you murder 10 people, you will be murdered 10 times before your freedom is returned to you…," the campaign website listed as an "action plan" for the prison system, which has since been deleted.
"If you rape 3 people, you will be raped 3 times as forced by the Nevada Government and orchestrated by the victims (if they are still alive)," the statement continued.
Bundy said he did not approve the controversial policy. It was added by Cardiff Gerhardt, Bundy's 26-year-old campaign manager and website developer, according to The Oregonian.
"That's not my words. That's not my ideals," Bundy told the Las Vegas Review-Journal. "I did not approve of that. I did not review it. I had not even read it. It went up there prior to my approval."
FOX NEWS MIDTERM ELECTION HEADQUARTERS
Bundy did concede he supports capital punishment for someone convicted of murder, but clarified he does not agree with rape as a form of punishment.
"A rape for a rape doesn't make sense," Bundy told The Oregonian. "That's ridiculously stupid as far as I'm concerned."
For his part, Gerhardt told the Review-Journal the plan fits his own personal "ideals," and explained he posted it because he thinks "it's fair." He also said the campaign needs "to move very fast because we are the underdog, the people's choice."
"Yes, I would like to see rapists be raped. I would like to see murderers be murdered."
"All of that content was my words written at 2 o'clock in the morning," Gerhardt confirmed to The Oregonian, saying he added content to the website ahead of President Trump's planned trip to Nevada this week. "I stand by every word I wrote and encouraged him to leave it, but it's his campaign."
NEVADA PIMP RUNNING FOR STATE ASSEMBLY LOSES BROTHEL LICENSE
"It is my creative solution to refer to biblical retribution systems. Yes, I would like to see rapists be raped. I would like to see murderers be murdered," he continued. "They are criminals, and they deserve to encounter the golden rule … treat others like you would like to be treated."
Despite going rogue with the campaign website, Gerhardt still remains Bundy's campaign manager.
A federal judge dismissed all charges against Bundy – as well as his father, Cliven, and brother, Ammon – in January over the 2014 armed standoff to block authorities who planned to capture and impound Bundy cattle that allegedly crossed onto government land.
In 2016, the Bundy brothers led a takeover of a national wildlife refuge in Oregon. The pair was also acquitted in that case.
Former Texas Rep. Ron Paul, a libertarian idol, endorsed Bundy in August.
Nevada Attorney Gen. Adam Laxalt is the GOP nominee for governor, and Clark County Commissioner Steve Sisolak is the Democrat. Fox News has ranked the gubernatorial election as a tossup.
Fox News' Benjamin Brown contributed to this report.