George H.W. Bush's funeral, memorial services: Everything you need to know
President George H.W. Bush was back in Washington one last time this week as the nation grieved its 41st president.
The casket of Bush, who died late Friday at his home in Houston at age 94, arrived in Washington on Monday for three days of public visitation as he lied in state at the Capitol rotunda. The public viewing concluded Wednesday morning ahead of a funeral service at the Washington National Cathedral.
Former President George W. Bush, his son, delivered a eulogy at the funeral, as did former Canadian Prime Minister Brian Mulroney, former Sen. Alan Simpson and presidential historian Jon Meacham.
After the service, Bush was flown back to Texas where he will be buried Thursday.
Read on for a look at the week's events for Bush.
December 3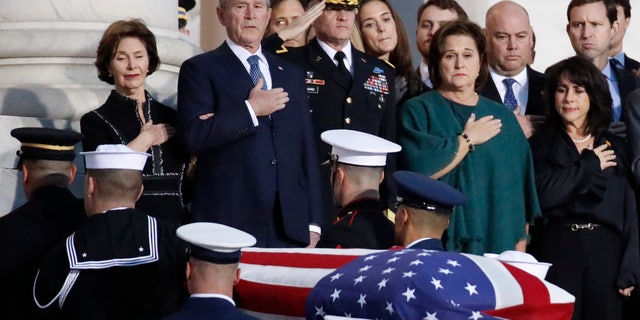 Bush's body was brought from Texas to Washington, D.C., by Air Force One, President Trump announced over the weekend. Trump tasked the crew of the military airplane to carry out "Special Air Mission 41," a reference to Bush's place in the roster of America's presidents.
A motorcade then brought Bush to the U.S. Capitol where he will lie in state until Dec. 5. He was greeted with a solemn ceremony and high tributes to his service and decency
GEORGE H.W. BUSH, AS PRESIDENT AND IN OTHER ROLES, WAS KEY FIGURE IN US AND GLOBAL AFFAIRS FOR DECADES
Vice President Mike Pence, Senate Majority Leader Mitch McConnell and House Speaker Paul Ryan gave remarks at the ceremony inside the Capitol.
"Here lies a great mean," Ryan said, calling Bush a "gentle soul."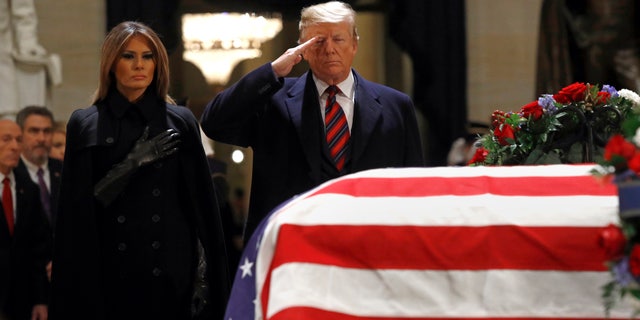 Trump did not attend, but he and the first lady came to the Capitol later Monday to pay tribute. They stood in front of the casket with their eyes closed for a few moments before Trump saluted.
When someone lies in state in the Capitol Rotunda, the casket is placed in the center of the room on the catafalque, the wooden platform used for President Abraham Lincoln's funeral in 1865. The casket is draped with an American flag and an honor guard stands vigil around the clock. Visitors to the rotunda are usually permitted to file past the casket after formal and family ceremonies.
HOW GEORGE H.W. BUSH'S FUNERAL COMPARES TO TRADITIONS OF PAST PRESIDENTS' SERVICES

The last president to lie in state was President Gerald Ford in late 2006-early 2007. President Ronald Reagan lay in state in June 2004. However, the last two people to lie in state were not presidents: Sen. Daniel Inouye in 2012 and Sen. John McCain earlier this year.
December 4
The public continued to pay their respects to the 41st president as he lies in the Capitol.
Among them was longtime Sen. Bob Dole, who was helped from his wheelchair to salute Bush in an emotional moment.
GEORGE H.W. BUSH PRAISED FOR MAKING MAINE PARAMEDIC'S 'DREAM COME TRUE'
CIA Director Gina Haspel and former directors John Brennan and George Tenet paid their respects as they visited Bush, a former CIA director.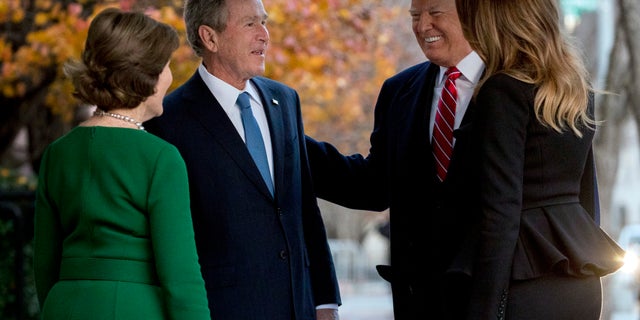 In the midst of the period of mourning, first lady Melania Trump gave Laura Bush, one of her predecessors, a tour of holiday decorations at the White House, a "sweet visit during this somber week," as Mrs. Bush's Instagram account put it. And the Trumps visited members of the Bush family at the Blair House presidential guesthouse, where they are staying. Former President George W. Bush and his wife greeted the Trumps outside before everyone went in for the private, 20-minute visit.
December 5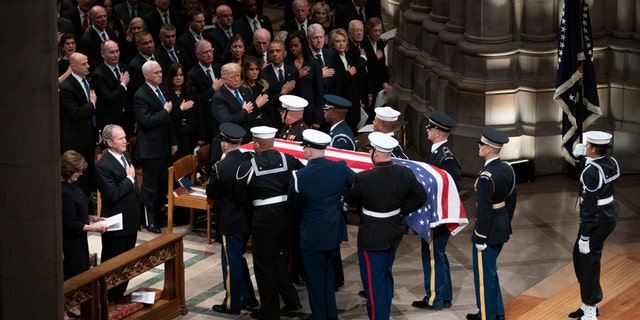 The public viewing of Bush concluded Wednesday morning ahead of his funeral service at the Washington National Cathedral.
Former President George W. Bush, his son, delivered a eulogy at the funeral, as did former Canadian Prime Minister Brian Mulroney, former Sen. Alan Simpson and presidential historian Jon Meacham.
Although somber and emotional, the service was at times filled with laughter as Bush was remembered for his penchant for jokes and his tongue-tied remarks.
President George W. Bush drew laughter in the packed cathedral as he told anecdotes about his father, revealing how Bush confidant James Baker recently secretly brought vodka and steaks into his hospital suite.
"To us, he was close to perfect," he said. "But not totally perfect. His short game was lousy. He wasn't exactly Fred Astaire on the dance floor. The man couldn't stomach vegetables, especially broccoli. And by the way, he passed these genetic defects on to us."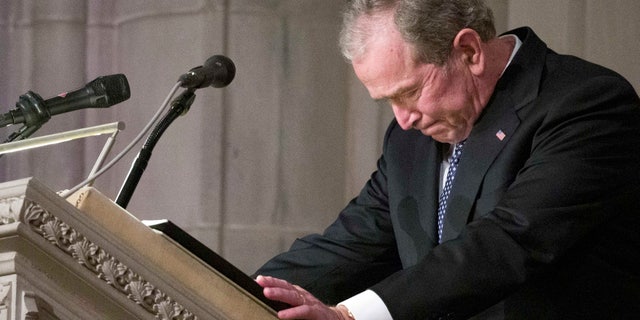 But the 43rd president was also emotional as he choked up in describing "the best father a son or daughter could have."
"We're gonna miss you," the younger Bush said of the former president. "Your decency, sincerity and kind soul will stay with us forever."
Trump and the first lady attended the service, as did all of the former living presidents and their wives: Barack and Michelle Obama; Bill and Hillary Clinton; and Jimmy and Rosalynn Carter.
GEORGE H.W. BUSH WILL BE TAKEN TO FINAL RESTING PLACE ON HIS SPECIAL '4141' TRAIN
Cathedral officials told Fox News the cathedral was at full capacity, with approximately 3,000 people in attendance.
After the funeral, Bush's casket was flown to Houston, Texas. More than 11,000 people paid their respects to Bush as he lay in repose at St. Martin's Episcopal Church in Houston, where his family worshiped.
Trump designated Dec. 5 as a national day of mourning.
December 6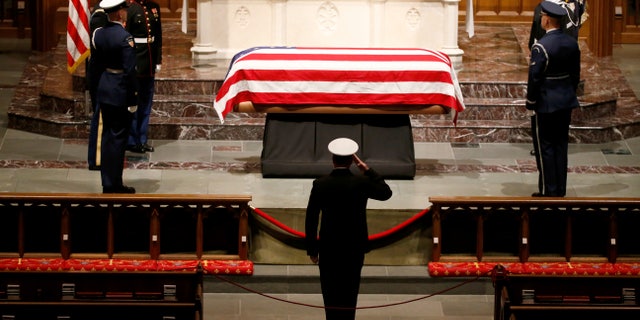 A funeral service will be held at St. Martin's Episcopal Church around 11 a.m. ET.
About 1,200 mourners are expected at the service. Delivering a eulogy will be James Baker, Bush's former secretary of state and longtime confidant. Bush's grandson George P. Bush, the Texas land commissioner, will give the other eulogy.
After, he will be taken by train to the George Bush Presidential Library at Texas A&M University. His final resting place will be alongside Barbara Bush, his wife of 73 years who died in April, and Robin Bush, the daughter they lost to leukemia in 1953 at age 3.
GEORGE H.W. BUSH TO BE HONORED WITH MISSING MAN FLYOVER AT FUNERAL
Known for his quirky socks, Bush "will be carried to his final rest wearing socks that pay tribute to his lifetime of service, starting as an 18-year-old naval aviator in war," spokesman Jim McGrath said, sharing a photo on social media.
Fox News' Mike Emanuel, Alex Pappas, Chad Pergram, Elizabeth Zwirz and The Associated Press contributed to this report.