George H.W. Bush will be taken to final resting place on his special '4141' train
George H.W. Bush will be taken to his final resting place Thursday by a train designed more than a decade ago in honor of the former president.
Bush, who died on Nov. 30 at his home in Houston, was honored with multiple services in Washington, D.C. this week before his casket was flown back home to Texas. After services at St. Martin's Episcopal Church, the Union Pacific will transport Bush's casket to College Station – where he will be buried at the George Bush Presidential Library at Texas A&M University – on a custom train dedicated to Bush in 2005.
The train is painted light blue, meant to resemble Air Force One and bears the logo "4141" – a reference to Bush as the 41st U.S. president.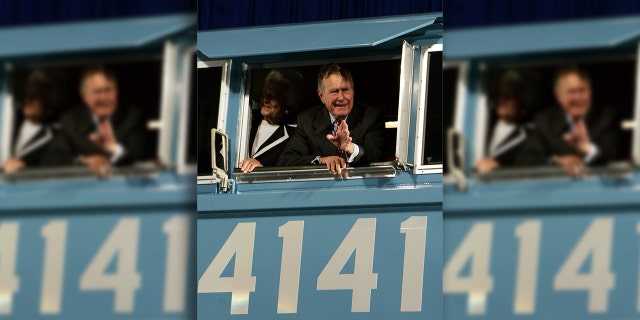 The 4,300-horsepower train's sixth car, a converted baggage hauler called "Council Bluffs," has been fitted with transparent sides to allow mourners lining the tracks to be able to view Bush's flag-draped coffin.
Dedicated to Bush near his library in 2005, the president took a tour of the train and inquired about how it operated. And then he asked to drive it, Mike Iden, a former Union Pacific official, told KFDX-TV.
GEORGE H.W. BUSH'S FUNERAL, MEMORIAL SERVICES: EVERYTHING YOU NEED TO KNOW
"We described the operation with respect to what the conductor does at this desk and what the locomotive engineer does on the control stand on the other side of the cab. It was at that point President Bush said, 'Can I take this for a drive? Can I run it?'" Iden recalled. "And we made the decision to bring him into the engineer seat on that side of the cab and give him a little training, and of course our engineer was directly behind him."
During the unveiling of the train, Bush said he wanted his presidential library to "touch a broader cross-section of American life, encompassing an eventful period of our history." It included an exhibit dedicated to the railroad industry in an effort to attract "the most unique, educational, and entertaining exhibits," according to Union Pacific.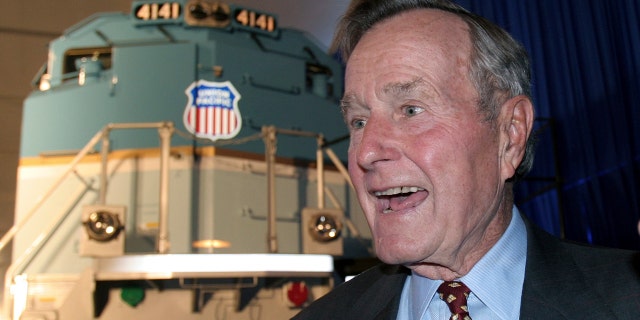 "If we had the UP 4141 back when I was still in office, I might have left Air Force One behind more often," Bush joked at the unveiling.
HOW GEORGE H.W. BUSH'S FUNERAL COMPARES TO TRADITIONS OF PAST PRESIDENTS' SERVICES
Aside from Bush's connection to the specially-made locomotive, presidential funeral trains have played a part in American history.
President Abraham Lincoln's train traveled through 180 cities and seven states to transport his body from Washington, D.C., to Springfield, Illinois, after he was assassinated. The train had been commissioned specifically for the president by the U.S. military, but the procession was the only time he used it, according to Union Pacific.
President Dwight Eisenhower was the last president to be transported by locomotive for his funeral. He was taken from Washington, D.C., to Abilene, Kansas – crossing through seven states – in 1969.
Union Pacific was contacted by federal officials in early 2009 and asked, at Bush's request, about providing a funeral train at some point, company spokesman Tom Lange said.
"We said, 'Of course, and also we have this locomotive that we would want to have obviously be part of it,'" Lange said. He noted that trains were the mode of transportation that first carried Bush to his service as a naval aviator in World War II and back home again.
Bush also previously recalled taking trains "all the time," and often slept on them during trips as a child with his family. He traveled by train as he campaigned for the presidency in 1988 and 1992 as well.
His final train ride, from Spring, Texas to College Station, is about 70 miles and will take more than 2 hours to complete as it travels through five towns. UP 4141 will leave with the president at about 1 p.m. Thursday.
The Associated Press contributed to this report.