Bob Dole gives George H.W. Bush standing salute, rising from wheelchair in dramatic moment
Former Senate Majority Leader Bob Dole was helped out of his wheelchair Tuesday afternoon to salute the American flag-draped casket of former President George H.W. Bush.
Dole, 95, arrived at the Capitol Rotunda — where Bush will lie in state until Wednesday — pushed in his wheelchair by an aide. Once at the casket's side, the aide helped Dole stand. And as he was steadied, Dole raised his left arm and saluted.
A longtime senator and congressman from Kansas, Dole was then helped back into his wheelchair where he sat for several moments in front of the casket of his former colleague. Like Bush, Dole is also a World War II veteran. He was the Republican presidential nominee in 1996.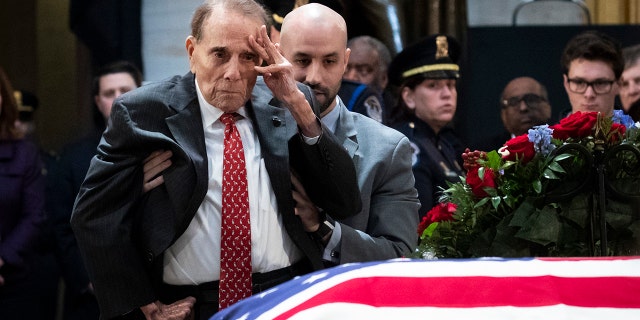 Dole suffered extensive injuries to his arms in the war. A 1996 New York Times article detailed his injuries as so severe, he could not use his right arm or hand and his left hand was partially numb as well.
GEORGE H.W. BUSH FUNERAL WILL BE ATTENDED BY TRUMPS, CLINTONS, OTHERS: A LIST OF NOTABLE GUESTS
The Dole Institute of Politics at the University of Kansas set up a special memorial to honor Bush's legacy and his relationship with Dole. A guest book will eventually be sent to the Bush family, the institute said.
Bush's service dog Sully visited the casket in the Capitol earlier Tuesday.
Bush will be honored with a funeral service at the Washington National Cathedral Wednesday before his body is flown back to Texas for burial. He died on Nov. 30 at the age of 94.
The Associated Press contributed to this report.