John McCain's funeral events: Everything you need to know
The late Sen. John McCain's life and legacy will be honored with several special memorial services throughout the week. Government officials, members of the military and McCain's immediate family will travel from Arizona to Washington, D.C., to pay tribute to the veteran and politician.
McCain died Saturday at age 81 after a year-long battle with brain cancer, leaving behind a decades-long legacy in politics which included presidential runs.
While not everyone always agreed with McCain's points of view, many could share appreciation that he loved his country.
Sen. Lindsey Graham, R-S.C., one of McCain's closest friends told Fox News' Sean Hannity Monday he especially appreciated hearing kind words from those who disagreed with the Arizona senator's politics.
JOHN MCCAIN'S US SENATE SEAT: WHAT HAPPENS NEXT?
"The fact that people say good things about [McCain] now, I appreciate, but the family appreciates it," Graham said, earlier praising McCain's "romantic view of the nation; it never died. He loved America ... [he was] willing to die for it."
Over the next several days, members from both sides of the aisle will pay tribute to McCain. Here's a look at the scheduled events.
Aug. 29
McCain lies in state at the Arizona State Capitol Museum. He's the third person to lie in state in the rotunda in the last 40 years — following in the footsteps of Arizona State Sen. Marilyn Jarrett in 2006 and Olympic gold medalist Jesse Owens in 1980.
A 11 a.m. MST ceremony, which includes remarks from Arizona Gov. Doug Ducey and former U.S. Sen. Jon Kyl, is held in the state.
JOHN MCCAIN'S MILITARY CAREER, FROM HIS TIME AS A VIETNAM WAR POW TO ROLE IN PASSING DEFENSE BILL
Around 3 p.m. MST, the Capitol is opened to members of the public who want to pay their respects. The viewing will go on as long as people are waiting in line, Rick Davis, McCain's former presidential campaign manager, says.
Aug. 30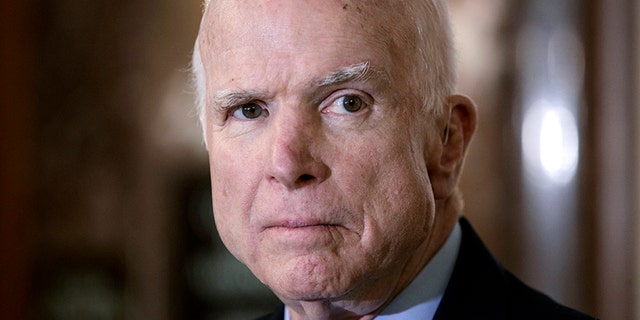 Arizonans line the 50-mile stretch of Interstate 17 as Arizona National Guard personnel and a motorcade makes its way through Phoenix to a memorial service at North Phoenix Baptist Church.
McCain's wife, Cindy, arrives at the Arizona State Capitol at 9 a.m. MST to pay her respects.
An hour later, a memorial service takes place at the church.
"Senator McCain's family and friends, along with state, local and tribal officials, and business and civic leaders from across Arizona have been invited to attend the service. In addition, about 1,000 seats have been made available to the public," according to funeral information listed on McCain's official website.
JOHN MCCAIN'S POLITICAL ACCOMPLISHMENTS
Former Vice President Joe Biden is expected to speak at the service.
As the ceremony concludes, McCain's body will depart Arizona for the last time. The casket is placed on a plane at Phoenix Sky Harbor International Airport, departing for Washington, D.C.
Aug. 31
Another viewing is held at the U.S. Capitol ahead of a final memorial service at the Washington National Cathedral, which takes place at 11 a.m. ET.
Sept. 1
At 8:30 a.m. ET, McCain's casket is moved by members of the Armed Forces to a motorcade, which takes him to the Washington National Cathedral.
"The motorcade will pause at the Vietnam Veterans Memorial where Mrs. Cindy McCain will lay a ceremonial wreath honoring all whose lives were lost during the Vietnam War. The public is welcome to line the procession route along Constitution Avenue to pay their respects to Senator McCain," according to McCain's website.
Then at 10 a.m. ET, a private service is held for family, friends, colleagues and various other political leaders. Vice President Mike Pence will likely attend the funeral.
Presidents George W. Bush and Barack Obama, who blocked McCain's own White House ambitions, are expected to take the mic and say a few words at some point during the ceremony.
The Associated Press contributed to this report.