Colombia & Venezuela Put Aside Diplomatic Spat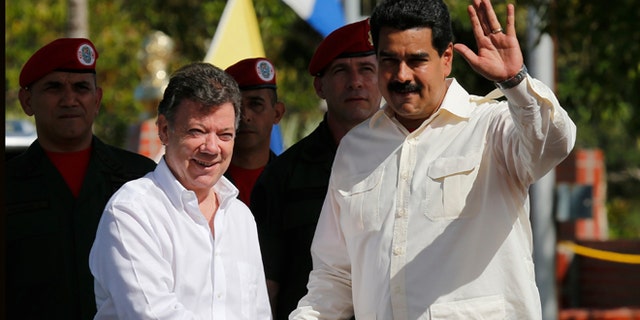 The United States closest ally in Latin America and its biggest foe met Monday to put aside the diplomatic dispute between the two countries that has been simmering for months.
Colombian President Juan Manuel Santos met with Venezuelan leader Nicolás Maduro to start fresh relations that had soured after Santos met with Venezuelan opposition leader Henrique Capriles in May. Claiming that the meeting represented a meddling in Venezuelan affairs, Maduro slammed Santos's springtime meeting with Capriles, who narrowly lost Venezuela's presidential election in April.
"There are things that we do not agree on ... but we have the immense obligation and responsibility to work together - and that's what we're going to do," Santos said Monday following the meeting in Puerto Ayacucho, the capital of Venezuela's Amazonas State that lies across the Orinoco River from Colombia, according to Reuters.
Maduro pledged his support to the continuing peace talks between the Colombian government and the Revolutionary Armed Forces of Colombia (FARC, in Spanish), Latin America's largest and oldest guerrilla group that has battled the Colombian government for decades and in recent years become involved in the country's drug trade.
"You can count on our best efforts to ensure peace can be achieved," Maduro said.
The meeting between the two Latin American leaders was held following the opening of a new Colombian Naval force that will patrol the river that act as Colombia's borders with Venezuela and Brazil. Colombia shares an 809-mile-long border with Venezuela and Brazil.
Relations between Colombia and Venezuela have been tense for years, especially during the tenures of the late Venezuelan socialist leader Hugo Chávez and former conservative Colombian leader Alvaro Uribe.
The two countries almost came to arms in 2008 during the so-called Andean Diplomatic crisis, which dealt with a Colombian incursion on Ecuadorean turf during a raid on a FARC camp. The crisis was resolved a Rio Group summit on March 7, 2008, with a public reconciliation between the three countries.
Santos, seen before his election as closely tied to Uribe, has made strides at repairing relations with Colombia's testy neighbor. Days after his inauguration in 2010, Santos met with Venezuela's Chávez and quickly reestablished diplomatic relations with the country.
Accusations of Venezuela aiding the FARC and Colombia's support of U.S. policies in the region, however, have kept relations between the two countries on thin ice and kept political and economic ties greatly hindered.
Follow us on twitter.com/foxnewslatino
Like us at facebook.com/foxnewslatino