Nicole Malliotakis torches NY Democrats Adams, Hochul for incentivizing illegal immigration
Malliotakis says taxpayers funding hotels, health care for migrants while New Yorkers struggle
Officials in El Paso, Texas admitted that federal funds are being used to bus migrants from the border to New York City.
Rep. Nicole Malliotakis, R-N.Y., joined "Fox & Friends" Wednesday to respond to complaints from Mayor Eric Adams on the bussing of migrants and suggested he take up his complaints with President Biden.
"The reality is this president has undone the policies of President Trump and now we're seeing a 300% increase of crossings at our southern border," she told Steve Doocy.
5 MORE MIGRANT BUSES FROM TEXAS ARRIVE IN NYC AS ABBOTT CALLS OUT ADAMS' 'HYPOCRISY'
A top New York City immigration official recently claimed that Texas Gov. Greg Abbott is stoking "anti-Latino hatred" by transporting illegal immigrants from the border.
More than 80 migrants arrived in New York Tuesday amid criticism of the Big Apple's handling of the influx.
"The treatment that they're receiving in Texas is to be condemned," said New York City Commissioner of Immigrant Affairs Manuel Castro.
Supporters see Abbott's bus program as forcing liberal cities and government to deal with the reality of mass illegal immigration — New York City and Washington D.C. have historically positioned themselves as "sanctuary cities."
Malliotakis said Joe Biden has "singlehandedly" created the crisis at the southern border, specifically by "reinstating catch and release, halting border wall construction, and refusal to keep migrants in Mexico until they receive an asylum date."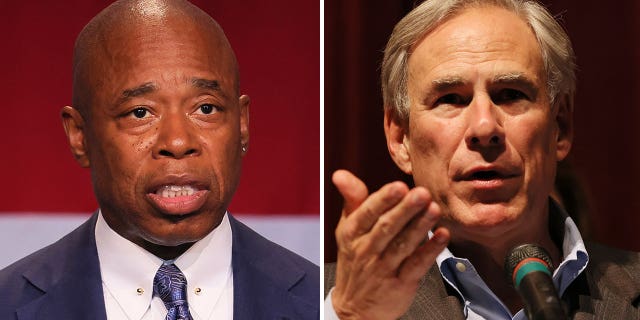 "You had dozens of people caught on the terrorist watch list," said Malliotakis." "You've emboldened the drug cartels who are now making billions and billions of dollars in incentivizing human trafficking and drug trafficking. Fentanyl, as you know, has become the number one killer of 18 to 45-year-old Americans."
CLICK HERE TO GET THE FOX NEWS APP
The New York Republican said Adams and Gov. Kathy Hochul are incentivizing illegal immigration by paying for migrants to stay in upscale New York City hotels on the taxpayer dime and giving them free health care while seniors in the state struggle to afford Medicare expenses.
"And then Kathy Hochul tells her taxpaying citizens, if you don't like it, move to Florida. That's how disgusting it's become under one-party Democrat rule at the city, state, and federal level."
Fox News' Timothy H.J. Nerozzi contributed to this report