Woman diagnosed with early onset Parkinson's at age 34 uses love of shoes to inspire others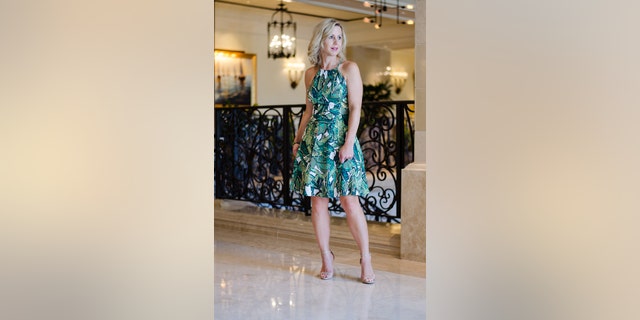 Ever since Tonya Walker learned to walk, she would steal her aunts' high heels from the floor, put them on and strut around. As she grew up to become a lawyer in construction and commercial litigation, she continued to marvel at the way a striking pair of high heels could transform even the most ordinary of little black dresses into something eye-catching.
"I think Marilyn Monroe was right: 'Give a girl the right pair of shoes, and she can conquer the world,'" now 43-year-old Walker told Fox News, quoting the late actress.
That's why when Walker was diagnosed with early onset Parkinson's disease at age 34, losing the ability to wear her top wardrobe staple was one of the biggest heartbreaks she faced. Parkinson's, which is incurable, causes balance and coordination issues, among other symptoms.
"That was just one more thing Parkinson's had taken away from me," said Walker, who lives in Orlando, Florida, and began experiencing symptoms at age 32.
'90210' ACTOR REVEALS 2015 CANCER SCARE
But Walker didn't let her diagnosis stop her from pursuing her dreams.
Not only did she go on to conceive her now 9-and-a-half-year-old son, Chase, as her symptoms began appearing, and begin teaching law at a local university, but she also started wearing high heels again with Parkinson's treatment. And, to help inspire other Parkinson's patients, she runs the blog the Shoe Maven, where she raises awareness of the disease and documents her journey "to battle Parkinson's in style."
"We all have something that we battle every day," Walker said. "Mine just happened to be Parkinson's disease, and I just want to serve as an inspiration for those who are dealing with something so that they can overcome [it], and still live a happy and healthy and productive life."
Parkinson's, which usually impacts people over age 60, is caused by the loss of brain cells that produce the hormone dopamine and leads to a progressive decline in motor skills, according to the National Institutes of Health. People with Parkinson's also typically experience tremors in their limbs and face, stiffness in their limbs and trunks, and slowness in movement. About 10 percent of Parkinson's patients are diagnosed under age 50, which is considered early onset. Walker has no family history of the disease.
THIS MOM EMBRACED HER C-SECTION SCAR AND STRETCH MARKS IN AN INSPIRING INSTAGRAM
Although there is no cure for the condition, some medications and treatments, like deep brain stimulation (DBS), may offer relief for symptoms such as tremors. For Walker, DBS helped her trade her flats in for her favorite pair of heels, Christian Louboutin black patent peep-toe Mary Janes, after she underwent the surgery for the first time in August 2013. Prior to the procedure, Parkinson's would cause Walker's feet to turn at a 90-degree angle unexpectedly — sometimes, while she was driving in the car down the road with her son.
"It was becoming a risk to other people on the road in addition to myself and my son," she said. "So, I decided to get the surgery."
Parkinson's is marked by abnormal loops in the brain circuitry, whereby some nerves are overstimulated and others are not stimulated enough, Charles Adler, MD, PhD, professor of neurology at the Mayo Clinic College of Medicine in Arizona, who has not treated Walker, told Fox News. DBS works by inhibiting those nerve endings that are too stimulated and shutting those areas off. Patients who undergo DBS get a wire implanted in either the right or left side of the brain, depending on which side of the body their symptoms are appearing. The wire is connected to a pacemaker-like device, which is implanted in the chest to constantly stimulates the brain.
Patients who are still on medication, but are seeing side effects that limit their ability to use them, are eligible for DBS, Adler said.
THESE LIFE-CHANGING WIGS BRING JOY TO CANCER PATIENTS
After undergoing the surgery, Walker said she could "immediately tell the difference."
"When I was wheeled back to the hospital room, my dad looked at me and said he could see the sparkle in my eye again," she recalled. "I had a newfound energy, and several months later, I found that I could wear my favorite high heels again, and that's how my blog came about."
Although she is happily married to her husband, Chad, mothers her son, works as a law professor at Florida A&M University, and is increasingly advocating for Parkinson's funding and awareness, Walker still has days where she doesn't want to get out of bed.
"My life is not all rainbows and unicorns," said Walker, who is an ambassador for the initiative More Than Motion. "I definitely have my bad days, too, on occasion, but I try to make a conscious effort every day to choose to be happy."
FOLLOW US ON FACEBOOK FOR MORE FOX LIFESTYLE NEWS
She said if her story and blog are making a positive impact on at least one person, that's reason enough to continue talking about Parkinson's.
"You never forget you have Parkinson's, whether you're having a tremor, or your medicine is causing extra movement, or you're moving slowly … that's what I'm wrestling with now," she said. "I know it's advancing in me, and I can see it, and I feel it. And I don't know what the future holds for me. But I'm going to continue wearing my high heels when I can and bringing awareness to the disease."