Why this woman shared a selfie in a dress that's too small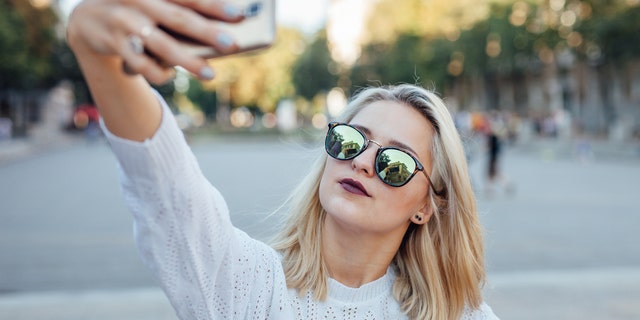 Not being able to zip up an old dress you once loved is often a discouraging experience, but one courageous young woman took it as a clear sign of positive transformation.
Instagram user Lucia Litman recently posted a photo of herself in a dress she's outgrown and has seen the image go viral, racking up more than 2,600 likes since being posted on Instagram four days ago.
"Here's a picture of me in my favorite dress from 3 years ago," Litman writes in the caption. "It's a size 2 and doesn't even come close to zipping right now."
Litman shares in the post that she struggled with an eating disorder through high school and college, when she weighed herself five times per day and her happiness hinged on the number she saw on the scale.
WOMAN'S BEFORE-AND-AFTER PIC GOES VIRAL — FOR AN UNEXPECTED REASON
Going to therapy and treatment centers helped her reframe her relationship with food and her body image, Litman writes.
"I'm happy to say that I now have the healthiest relationship with food I've ever had," writes Litman, who shares in the caption that she was inspired to post the photo after someone she describes as a so-called friend "told me that I've let myself go and should stop eating so much bread."
Litman wraps up the post with an inspiring message for others who may be struggling with an eating disorder or are having trouble loving their bodies.
"To all of you out there who are still struggling," she writes, "know that you're more than a number and that having a thigh gap is irrelevant (and physically impossible for some people's bone structure), but most importantly that you are not alone and are loved."
WOMAN SHARES HEARTBREAKING FACEBOOK POST TO SHOW WHAT DEPRESSION REALLY LOOKS LIKE
Based on the slew of supportive comments Litman has received, her message clearly resonates with many women.
"Looking HEALTHY AND GORGEOUS!" one user wrote.
Another shared, "Thanks for sharing. It means a lot to have peers and other women telling their stories and talking about body love."
The National Eating Disorders Association estimates that 20 million women and 10 million men in the United States suffer from a clinical eating disorder at some point in their life. Those disorders include anorexia, bulimia and binge eating.