When Hubby Works for ICE, a Nanny is Hard to Find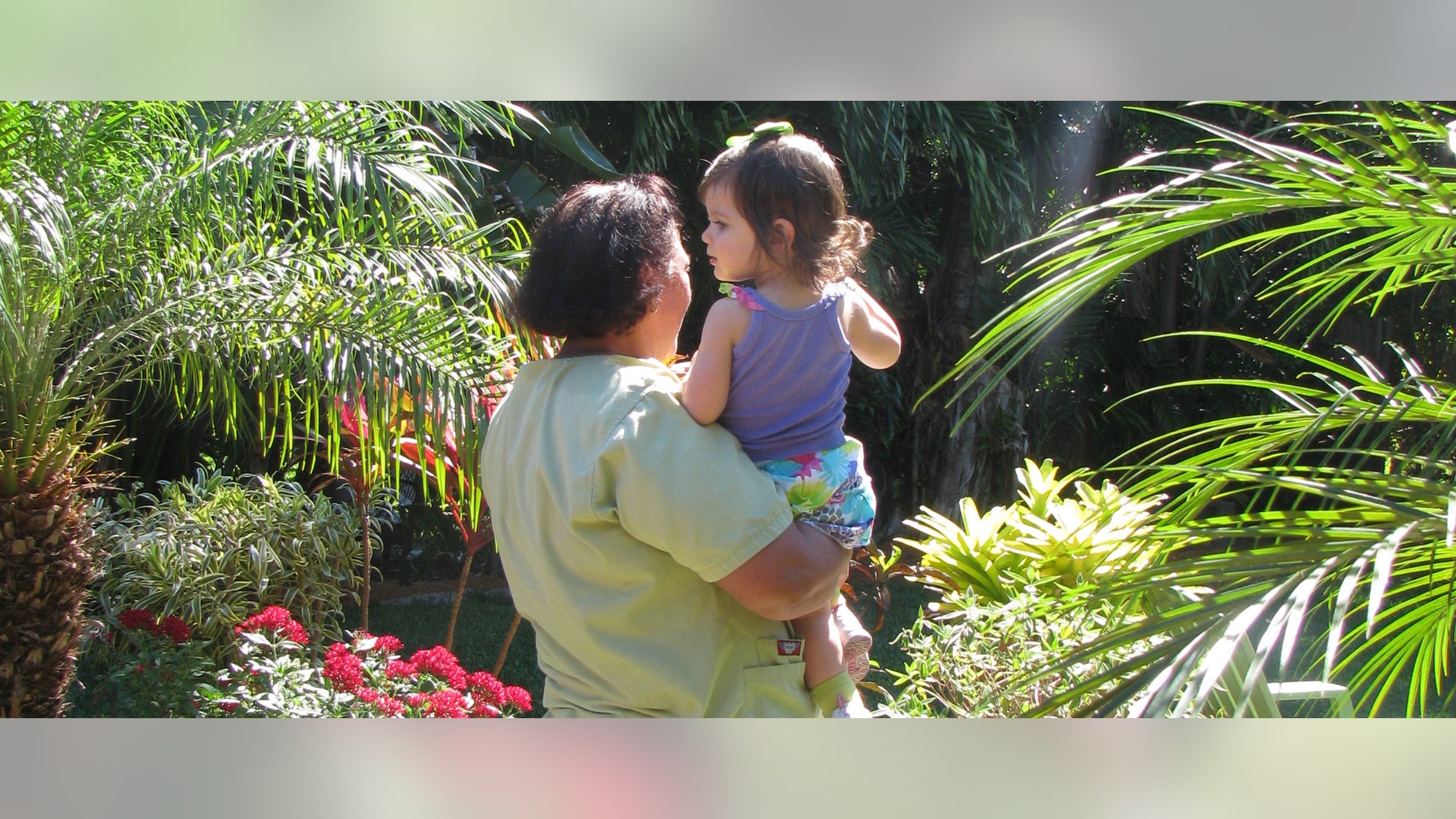 My head hurts thinking about IT and possibly ever going through IT again.
We had just had our first child. A bit late being that we are in our mid and late 30s. So naturally looking into the eyes of my beautiful baby girl inspired unnamed fears and anxieties I never knew existed.
Namely, who was going to care for my little snowflake once my maternity leave was over?  Like most mothers who work, I had to make arrangements for childcare.  Pronto. We decided early on that daycare wasn't for us. We were nervous first-time parents and wanted one-on-one care in our home. So we started looking for a nanny. And that search nearly did us in.
We asked friends and family if they knew of anyone. Someone they could vouch for.
I asked coworkers, clients and even my boss who was anxious for me to come back to work.
Aida, the lady who took care of my niece and nephew told us she had just retired from childcare and was now doing cantinas, or food service.  The lady my hairdresser recommended only wanted to know, "Cuanto? How much ?!"  My sister-in-law with her vast network of church friends came up empty handed.  My elderly mom, aka alpha-abuela, who is too frail to do the job herself but called up everyone she knew. NADA.
Celebrities Who Were Once Undocumented
Finally, I asked my twice-a-month housekeeper Ebelin if she was interested in the job. She wasn't interested, but took pity on me and gave me the name of an agency.
The agency had all kinds of questions for me: What kind of nanny are you looking for? What age group? Do they need to speak Spanish? Do you have a preference in country of origin?  Live in or out?  Hours? Weekends? Do they need to drive and have a car?
But the hardest question it turned out was do they need to have papers?  "Uh, hmmm. Let me get back to you on that," I said.
Truthfully, it wasn't something I had really thought of.  I knew of many good, hard-working people that were 'indocumentados' or undocumented.
I ran it by my husband. He calmly explained to me that I had lost my marbles and there was no way I could hire an undocumented nanny.   "But why?" I cried in my groggy-no-sleep-mommy-haze. "If she's hard working, honest and loving that shouldn't matter."
After all, my parents migrated to this country and his grandparents did too.
I'm first generation Cuban-Chinese. My husband is of Irish-Italian descent. We are raising our daughter in a multi-ethnic, multi-cultural and multi-lingual home. We are very proud of it, too.
We are also well aware of the political climate dealing with the immigration debate.
Texas Teen Mistakenly Deported to Colombia is Returned to US
He explained this wasn't about personal beliefs or politics. It was about breaking the laws of this country. Moreover, how could he – an officer of the law – feign ignorance to it?
"It would be hypocritical of us to hire an illegal nanny," he said.
You see my husband is a federal agent. Catches bad guys who well, break the law. Specifically he was an ICE agent. You know --Immigrations and Customs Enforcement.
In his capacity, he didn't deal with undocumented immigrants or do raids or roundups. In fact, a few months later the agency would split up and he would actually be a Special Agent with Homeland Security Investigations or HSI. But the irony wasn't lost on me.
He reminded me, a former television journalist, to just imagine the headlines if the 24-hour cable news networks got a whiff of it:  "Immigration agent busted with illegal nanny in home." Gosh that even sounds a little Jerry Springer.
He went on in his calm manner, "Congress members have gotten in trouble for hiring undocumented. Who will pay the bills if I get fired? How will the baby eat? We cannot hire an undocumented nanny. That would be ILLEGAL." Calm no more. I thought he was going to pop blood vessels.
Fighting Machismo with Mini-Skirts in Mexico
I think the whole thing rubbed me in part because we were immersed in a community that employed many undocumented immigrants - groundskeepers, restaurant workers, construction workers – to name a few. South Florida is the melting pot of the Americas so it's quite common here. My friends with undocumented nannies would certainly lose no sleep over it. Heck, a billionaire I know had an undocumented live-in nanny from Honduras that came highly referred from within his Jewish community and was handsomely paid. In cash, of course. My brother's friend had Julia, who was recently caught up in an immigration sweep and deported back to her native Honduras. His wife and four kids were so distraught over it that the husband swam through all the nightmarish bureaucratic red tape and paid to bring her back with a legal work visa.
Despite all this even I had to admit my husband makes sense, sometimes. Sure, other people could possibly afford to play nanny-roulette but it wouldn't be fair to jeopardize my husband's job and my child's future by breaking the law. Really, who needed that kind of headache or scandal?  It also wasn't honest or ethical. What values would I be teaching my child? I called the agency back and told them in a much more confident manner to please only send me documented nannies.  "With papers, please."
Expedition's Quest for Mayan Gold Stirs Outrage
You'd think that would solve everything, right? Think again. The first woman we interviewed Maria-Elena was bubbly, exuberant and came highly recommended. She was originally from Nicaragua and her positive nature was infectious. I asked her for a copy of her driver's license or 'papers' and explained that she had to be legal because of my husband's job.  I said this in the interest of full disclosure. She seemed fine with everything. I even got to meet her husband and little boy after the interview. I called the agency to offer her the job, but she turned us down! She said her husband wouldn't let her take it because HE was undocumented and the thought of "LA MIGRA" terrified them. It was terribly upsetting for me and I'm embarrassed to say I kind of begged her but it didn't work.  At this moment, I was so resentful toward my husband, his job and even his goody-two-shoes ethics. I was peeved.
After that, the interviews were long and painstaking. I didn't think I'd like anyone as much as Maria-Elena. I interviewed more than 30 women. I was a new mom who was tired, anxious and the interview process was exhausting and emotionally draining. We checked references and backgrounds before even the first sit-down. I had my mom, alpha-abuela, sit in on the interviews to help include her.  I was desperate by the time I found Irma, a soft-spoken woman from Nicaragua who was very sweet.  She lasted a day and a half and informed me the hours were not going to work for her. Just shoot me.
Turns out three times a charm. Ana – originally from Honduras – was smart, spunky and chatty and it later turned out that she used to nanny the grandson of a former co-worker.  Her references were glowing. Even alpha-abuela grudgingly liked her.
The Most Arresting Pix of the Week
It has been more than a year now since all the nanny drama and since we first met Ana.  She has created a warm, loving and safe environment for my little angel while I'm out working. Truth is, Ana has invaded our space, our home and our heart. She is truly a part of our family and my daughter loves her dearly, as do we. The other day, my daughter clung to her as she was leaving and filled her face with wet kisses. It was so cute, namely because I felt like doing the same thing to thank her for coming into our lives.
Best of all for my husband and the sanctity of my marriage, Ana is fully documented, legal and files her taxes every year.
A. Rodriguez is a frazzled new mom who is completely captivated by her enchanting blue-eyed toddler of mixed heritage. She is a former TV journalist turned Sales Exec who is struggling to adjust to motherhood and find her new identity. She confesses that moms and playground politics scare her more than bosses and board meetings. You can write to her at Newsie9876@aol.com
Follow us on twitter.com/foxnewslatino
Like us at facebook.com/foxnewslatino