The Pearl Harbor attack changed course of history, and the lives of these 3 servicemen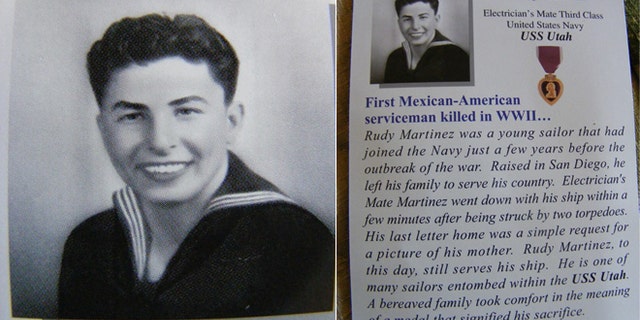 NEWYou can now listen to Fox News articles!
Seventy-five years ago today, the course of history changed in an instant when the Imperial Japanese Navy ordered a surprise military strike against the U.S. naval base at Pearl Harbor, Hawaii, on the morning of Dec.7, 1941, drawing America into World War II.
The casualties include 2,403 Americans killed and 1,178 wounded. A number of Hispanic serviceman were caught up in the events of that day which will live in infamy, including Ensign Manuel Gonzalez, Electrician's Mate 3rd Class Ray Martinez and Seaman 1st Class Ray Chavez.
Gonzalez is believed to have been the first American casualty of the attack. A member of Scouting Squadron 6 on the U.S.S. Enterprise CV-6, he was piloting a fighter plane to Ford Island in Pearl Harbor when they were attacked by Japanese aircraft.
The last desperate words overheard from Gonzalez were uttered to his gunner, Leonard J. Kozelek, just before they were shot down: "Hold your fire!"
California Superior Court Judge Frederick P. Aguirre spends his days away from the bench documenting the contributions of Latino servicemen in the U.S. military. He and his wife, Linda Martinez Aguirre started a small non-profit organization called Latino Advocates for Education.
Not long ago, Aguirre pointed out Gonzalez's sacrifice to the United States to Fox News Latino, as well as his place in history, and said, "I didn't see that in 'Pearl Harbor' or in 'Tora! Tora! Tora!' Did you?"
"We have identified more than 600 Latino flyers during World War II," Aguirre said, "including five aces who downed more than five enemy airplanes."
Also killed that morning in Pearl Harbor was a young sailor named Ray Martinez, 21, who served aboard the USS Utah when the battleship was struck by Japanese torpedoes. Within minutes, the Utah sank, trapping Martinez, six officers, and 52 other men inside.
Martinez, a Mexican-American, was awarded the Purple Heart and World War II Victory Medals posthumously.
He had been a high school wrestling champion in Texas and later became a featherweight boxer. Since his death the American Legion Post No. 624 in Mansfield, Texas, was renamed the Rudolph M. Martinez Post.
Ray Chavez did not die on Dec. 7, 1941. In fact, at 104 he is the oldest known U.S. survivor of the Pearl Harbor attack.
"I will never forget [Pearl Harbor] as long as I live," Chavez told NBC San Diego.
Chavez lives in Poway, California, and is one of 35 servicemen flown by Alaska Airlines to Honolulu to be honored as a special guest at this year's 75th anniversary commemorative ceremony.
He was assigned to the U.S.S. Condor serving as a quartermaster in charge of navigation. The night before the attack, another crewmember spotted what looked like a periscope of a submarine in the water. The Condor notified a destroyer, but it wasn't able to find any enemy vessels until after Chavez's shift was done.
Chavez was asleep at his home at the time of the attack.
"Well, I'm not exactly a hero ... but I'm very proud of the honor bestowed on me," Chavez told Fox 5.
Like us on Facebook
Follow us on Twitter & Instagram