Texas family sports dinosaur costumes for pregnancy announcement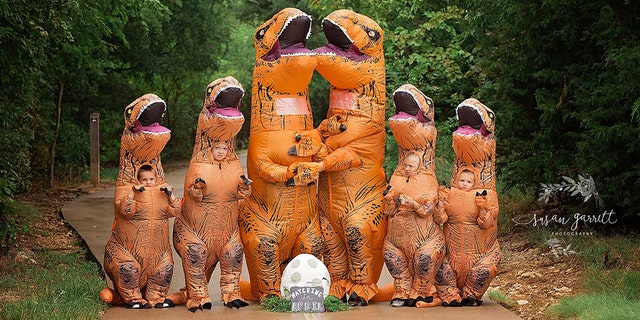 One Texas mom with a funny bone was thrilled to tell the world she was expecting her fifth child — by dressing up her family in inflatable, orange T-rex costumes.
In the hilarious pregnancy announcement, Nicole and Daniel Berkley of Aubrey dressed up along with their kids – Myleigh, 10, Montana, 6, Lane, 5 and Hannah, 4 – in matching oversized, prehistoric reptile outfits for a memorable photo shoot, Good Morning America reported.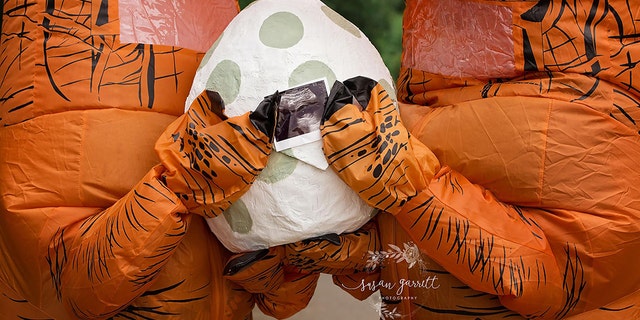 Posing in the verdant woods, the couple happily held a sonogram and a wooden egg inscribed "Hatching in April," in the images taken by Susan Garrett Photography.
Breaking tradition with the popular social media trend of announcing a pregnancy through what the busy mom described as "cutesy" images, the fresh, funny photo shoot was a hit on Facebook.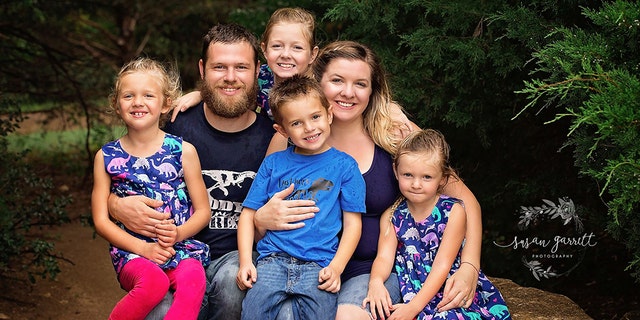 Winning over 620 likes and sparking over 950 shares, users declared the Berkley family's portrait session honoring their "baby-rex" on the way as "super cute" and "adorable."
PARENTS HAVE 32 MINUTES OF ME-TIME EVERY DAY, SAYS DEPRESSING STUDY
"It's our fifth baby, so I think we're past the cutesy photos. We wanted something that was going to be really cute and really funny and fits our personalities, so this was perfect," Nicole told GMA of the "Jurassic Park"-inspired shoot.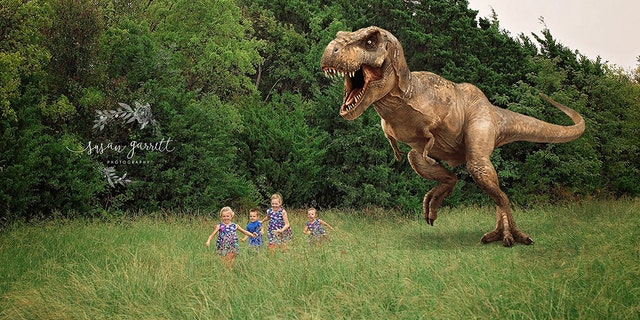 The bun in the oven marks an extra-special "rainbow" pregnancy for the Berkley family, as Nicole suffered a miscarriage in February.
"I was so nervous... because it's hard to get excited, especially after a miscarriage," she told the outlet. "Once I went to the doctor, saw the first ultrasound, heard the heartbeat, we were thrilled. Everything's going great."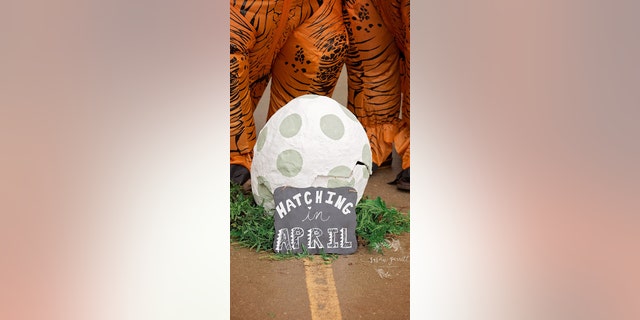 The family plans to throw a dinosaur-centric gender reveal party for the baby soon, too.
FOLLOW US ON FACEBOOK FOR MORE FOX LIFESTYLE NEWS
"Can't wait for the little egg to hatch!" their photographer wrote on social media.