School apologizes to student who was asked to cover up shirt with 'offensive' message
The family of a seventh-grade student in North Carolina is standing up for their daughter after faculty members reportedly felt the T-shirt she wore to dress-down day was inappropriate.
Emery, who attends Fort Bragg's Albritton Middle School, was asked to cover up her favorite shirt — which reads, "Why be racist, sexist, homophobic or transphobic when you could just be quiet?" — because some of the teachers found it to be "offensive," Emery's mother, Katie Moore Smith, wrote on Facebook last week.
The school also called Emery's father, a Fort Bragg Soldier, to inform him that Emery was asked to cover up with a sweatshirt, Yahoo! reported. Katie later arrived at school to speak with administrators, including the school's assistant principal.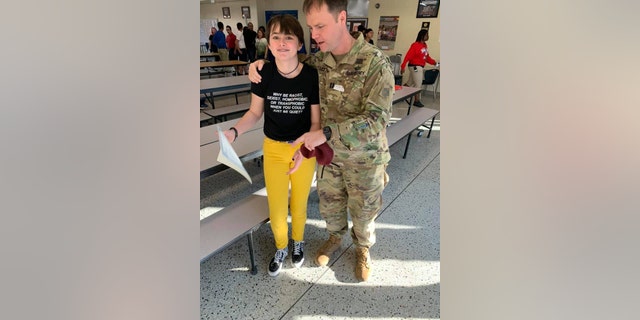 HIGH SCHOOL STUDENT LAUNCHES 'PASS THE SKIRT' MOVEMENT AFTER FRIEND IS DRESS-CODED
"He was not entirely forthcoming and was clearly trying to watch his words," Smith wrote on Facebook. "He did say that he personally did not find the shirt offensive, and he alluded to the problem being with the Phobias.
"I told him that we were really proud of Emery because chances are there is a kid in that school that identifies with each of those marginalized categories and she will be the one that has their backs even when those teachers and [administrators] don't," Smith added.
Smith then took Emery out of class for the rest of the day, and confirmed she may also remove Emery from the class of the teacher who originally called out the shirt.
"I don't think any of us really imagined adults would take issue with the shirt suggesting that discrimination is not OK," Smith told WTVD. "I told the staff that the shirt represented categories of children who are marginalized. In a time we are trying to combat bullying, I think it's so counterproductive to that."
ASOS CONFUSES INTERNET WITH 'HORRIFIC' HARNESS TREND
Smith's Facebook post — which included a photo of Emery and her father, who had visited the school that same day to celebrate an academic achievement award Emery had received — has since been flooded with supportive comments.
"I love that shirt. I want one! Stay strong Emery, the world needs more people like you," wrote one Facebook user.
"Congratulations Emery on your academic achievement award!! I support the statement on your shirt as well," another said.
CLICK HERE TO GET THE FOX NEWS APP
An official with the department that runs the school, too, released a statement confirming that it had reached out to the family to apologize for the incident, as the shirt did not violate any of the dress codes.
"Students are at the heart of everything we do," stated Public Affairs Officer Jade Fulce, of the Department of Defense Education Activity, per WTVD. "After further review of our dress code policies, we realized that the shirt did not violate our policies. The school reached out to the parents and apologized that same day."