School says Marilyn Monroe's shoulders depicted on teen's sweatshirt violated dress code, mom claims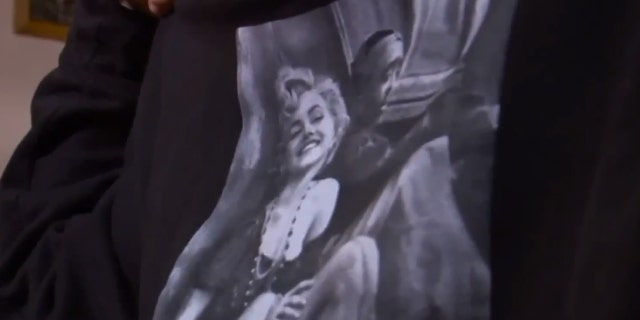 A Utah teen is claiming her junior high school forced her to change her sweatshirt because an image of Marilyn Monroe violated the dress code.
Katie Fabert, the unidentified teen's mother, said her daughter loves the late American icon and has a couple of sweatshirts that she wears with pictures of Marilyn Monroe printed on them.
INSTAGRAM INFLUENCER REPORTEDLY BOOTED FROM THE LOUVRE FOR REVEALING OUTFIT
However, when the 13-year-old wore one featuring Marilyn Monroe in an off-the-shoulder dress sitting next to rapper Tupac Shakur to South Ogden Junior High School on Wednesday, she was allegedly told by a school employee to change her shirt.
"She basically just said, 'I got dress coded for this shirt,'" Fabert said to Fox 13, meaning her daughter was cited for a dress code violation.
According to Fabert, her daughter said she was not given an explanation how her shirt broke the dress code rules. So Fabert went to the school with her daughter on Thursday to ask the vice principal.
"I said, 'Is this not in dress code?' And he said, 'No, it's not,'" Fabert recounted to Fox 13, of her conversation with the vice principal. "And I said, 'Well why isn't it?'"
FASHION SITE RELEASES $45 MEGHAN MARKLE RECEPTION DRESS REPLICA
Fabert told Fox 13 the principal explained that Marilyn Monroe was not dressed in compliance with the "South [Ogden Junior High's] dress code" because she had exposed shoulders. Students are not allowed to have exposed shoulders at school. Since the dress Monroe was wearing was not within the school's dress code, the sweatshirt was deemed inappropriate.
Fabert claims the encounter with the vice principal became confrontational and she and her daughter left.
Later in the day Fabert said she was contacted by the school's principal, who informed her that the sweatshirt did not violate school dress code policy. Fabert told Fox 13 the principal assured her he was going to go over dress code policy with the school staff.
FOLLOW US ON FACEBOOK FOR MORE FOX LIFESTYLE NEWS
"Instead of enforcing what is actually dress code... these teachers are coming in and bringing their own opinion," she said to Fox 13.
In a statement to Fox 13, the Weber School District said the school is investigating the matter.
"We did have an issue [Wednesday] with a student wearing a shirt that an employee thought was in a violation of the dress code. The student was asked to wear something different. The principal is in the process of reviewing that decision. We will work closely with the student and their family to appropriately resolve the matter."