Retailer removes Caitlyn Jenner-inspired costume following backlash: 'It is completely tasteless'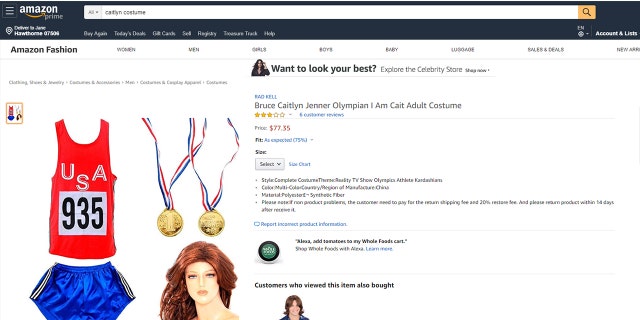 A Michigan retailer has decided to remove its Caitlyn Jenner-inspired costume from sale despite specifically saying the opposite just days ago.
The "I Am Cait" outfit from Costume Agent, which sold for $44.95 and included running shorts, a tank top reading "USA," two fake gold medals and a red wig, is no longer for sale from via online retailers such as eBay and Amazon.
OHIO MOM MAKES 'MICKEY MOUSE PIZZA' COSTUME FOR SON
"As of this morning, we've decided to stop selling the costume," a spokesperson for Costume Agent told NBC News. "After hearing concerns from those who are offended, regardless of our own thoughts and opinions, we decided to remove it."
The company's move follows calls from transgender support groups including Stonewall, which said the costume "reduces a marginalized group to the butt of a joke," per Sky News.
The Beaumont Society added that the costume was "transphobic" and "completely tasteless."
"We have become accustomed to insensitive mockery, but had hoped that cisgender people had become tired of such stunts and realized that it is not funny," a spokesperson for the Beaumont Society told Pink News.
TWITTER'S VIRAL 'SEXY' COSTUME CHALLENGE REVEALS REAL FEARS
A representative for Costume Agent had told TMZ on Tuesday that the company would not be removing the costume from sale, saying, "It's a costume. It's funny."
A representative for Costume Agent was not immediately available to comment for Fox News.
eBay, meanwhile, has since apologized for selling the Costume Agent item, according to U.K.'s Daily Mail.
FOLLOW US ON FACEBOOK FOR MORE FOX LIFESTYLE NEWS
What appeared to be the same "I Am Cait" costume, however, is currently selling via another retailer named "Rad Kell" on Amazon.