Preserving Latin American Christmas Traditions in New Homeland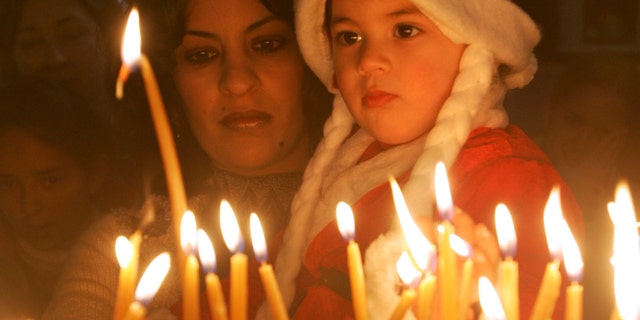 She remembers as a little girl her mother singing the songs of the novena and the procession from one relative's home to another back in her native Bogota, Colombia. Now living in Miami, 35-year-old Liliana Vanderbiest will relive one her of childhood traditions when she and friends bring the practice of the novena, daily prayers nine days before Christmas, to the United States.
"It seems like my generation is like the first generation who has grown up without these traditions and needs to really work to revisit them before they're lost with time," said Vanderbiest, a financial analyst in Miami. "Like a lot of people who have come from Latin American countries and have been here a long time, we either forget the traditions from back home or are just too busy to go back to them."
Indeed, many Latin American countries have their own traditional observances around the Christmas holidays, most of them deeply rooted in Catholic traditions. And many newly immigrated Latinos have let observances like the novena or la posada, a Central American tradition where neighbors act as pilgrims and travel from home to home to sing and pray, fall by the wayside as they acculturate to North American Christmas traditions.
Like a lot of people who have come from Latin American countries and have been here a long time, we either forget the traditions from back home or are just too busy to go back to them.
Some, like Vanderbiest, who is making it a point this year to do the novena with a newly immigrated friend from South America, are making concerted efforts to bring those traditions to the U.S.
Of all the different Latin American Christmas-time traditions, la posada is probably the most widely recognized, especially in areas of the U.S. where there are large concentrations of Mexicanos.
In Sacramento, Calif., La Raza Galeria is holding the first large organized posada events in the city's history this year. Executive Director Marie Acosta said the organization was focusing on Mexican traditions because of the predominant concentration of immigrants from there in that city.
She expected a few dozen to attend the first posada, which reenacts the pilgrimage of Mary and Joseph from Bethlehem, but around 150 people took part.
"We discovered that there is a need and a desire and a huge gap in the community for anything that redeems cultural heritage, particularly around the religious observances this time of year," Acosta said. "It's definitely a sign that our culture and heritage has not received its due diligence for whatever reasons. It's good to see such an outpouring of support and participation from the younger faces in the crowd."
Maite Velez-Couto, 32, fondly recalls the parrandas during her childhood in Puerto Rico. Since moving to Miami though, her Christmas traditions have been limited to making cultural dishes and serving them at work.
"Back home, for the parrandas, every household had to be prepared to receive people at any time of the evening and be fully stocked with rum and music," Velez-Couto said. "It's a great tradition, but something that would be kind of tough to pull off here.
"I think in some form or another we do try to keep some traditions alive whether it's in singing the songs or other religious experiences, but food and music are the easiest ways to keep the traditions going," she said.
In Fort Collins, Colo., north of Denver, El Museo de las Tres Colonias is observing the posada for the sixth year and has seen participation growing steadily over the years. While the celebration caters to the many Mexican immigrants in the area, the museo is making special efforts to incorporate traditions from other Latin American countries because of new demands for them.
"The community is really hungry for something cultural and sadly the opportunities to celebrate the traditions they were used to back in their home countries just aren't as easy to find here," said Betty Aragon, director of the museo. "We do see a lot of kids from Nicaragua and Guatemala who want to incorporate what they had in their native countries, which we think is wonderful to embrace. This gives us the chance to go back to our roots, something that many forget to do when they get here because they're so busy trying to fit into a new country."

Manny Gonzales is a Denver-based writer and communications professional.

Follow us on twitter.com/foxnewslatino
Like us at facebook.com/foxnewslatino