Philadelphia 76ers fan denied entry over wardrobe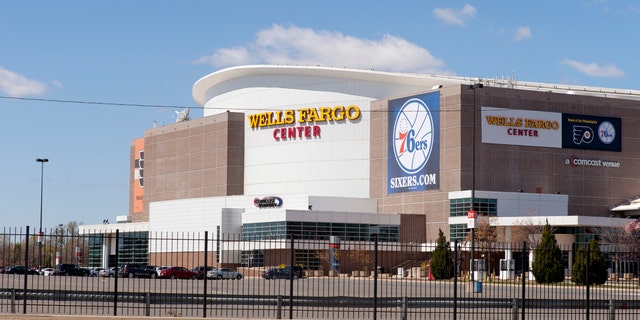 A basketball fan was allegedly stopped from entering a Philadelphia 76ers game by security because of her outfit.
Shaliah Rismay said she had gone to the Wells Fargo Center to watch the team's opening game against the Chicago Bulls when she was stopped by security.
HIGH SCHOOL PRINCIPAL APOLOGIZES FOR 'UNCOMFORTABLE' DRESS CODE COMMENTS
"They stopped us and said I couldn't even go past the metal detectors and I couldn't wear what I'm wearing," Rismay told NBC 10.
Rismay was wearing fishnet stockings, a leotard and a leather jacket, as seen in a photo her friend, Reuben Harley, posted on Twitter.
Rismay claims Harley – nicknamed Big Rube – was forced to buy her a hoodie at the stadium's merchandise store in order for security to let her in.
Harley called the incident "straight discrimination" and "utterly embarrassing."
CALIFORNIA SCHOOL DISTRICT'S LESS 'SEXIST' DRESS CODE DRAWS MIXED REVIEWS
"This happened at the tip-off. We didn't get in the game at half time," Harley told NBC 10.
"[The cheerleaders wear] the same thing, a leotard and some pantyhose," Harley added to the news station. "What's the problem? If a celebrity can do it, if the Sixers dancers can do it, why not just the regular fan?"
A spokesperson from the Wells Fargo Center told NBC 10 the venue doesn't have an "official dress code," but "reserves the right to make decisions regarding access to the facility on a case-by-case basis."
FOLLOW US ON FACEBOOK FOR MORE FOX LIFESTYLE NEWS
"These decisions relate to the safety and comfort of our guests, as well as to messages, signs or clothing that are obscene or indecent. In this instance, our event staff acted respectfully considering Ms. Rismay's attire, and handled the situation appropriately while being observed by NBA Security and a member of the City of Philadelphia police force," the statement read.