NY high school students' quick thinking helps firefighters rescue cat stuck on expressway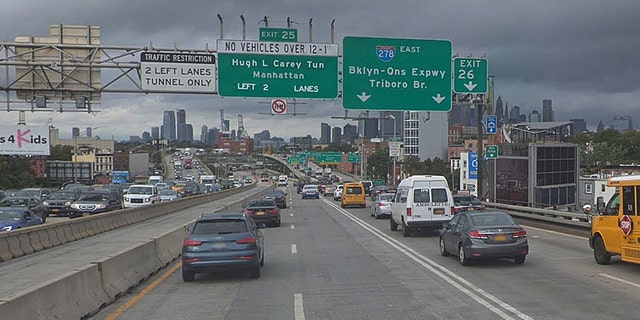 No need to call the fire department this time. A cat hanging from the edge of the Brooklyn-Queens Expressway (BQE) was rescued after quick action from a group of Brooklyn students on Friday.
School secretary, Jane Pieratti told Patch that students from Benjamin Banneker Academy noticed the cat hanging off the expressway near Clinton and Park avenues in the early afternoon and took action, getting the word out and even trying to catch it.
Most of the students who spotted the cat from school windows were in a lesson at the time, so Pieratti said they had to wait to rescue the cat when class got out.
CAT RESCUED FROM TOP OF LIGHT POLE AFTER ABOUT 12 HOURS OF CALLING FOR HELP, WOMAN SAYS
In the meantime, Pieratti said her students told her to get the word out on Twitter, so she started posting photos and tagging them with the Department of Transportation and including the mile marker.
"I'm a cat lover, so it was scary," Pieratti said. "I didn't want anything to happen to him"
When the bell rang for classes to end, the students bolted across the street and made a safety tarp they could hold out to give the cat a safe landing if it fell, which gave them enough time before NYPD arrived.
"It kept hanging down on the edge looking like it was going to jump, but it was way too high up to do that," Pieratti told Patch. "The kids went down there and got a tarp from somewhere to try to get the cat down."
When NYPD showed up, Pieratti asked if the fire department could use a ladder to save the animal, but unlike stereotypical cat rescues, police decided to travel up the expressway themselves.
They eventually made the rescue, taking the cat away from danger, but it might not have been possible without the quick action of the students.
VIRGINIA AUTO TECH HAILED AS HERO AFTER RESCUING KITTEN STUCK IN CAR FENDER FOR 45 MILES
"It was very exciting," Pieratti said. "(The students) didn't leave. They stayed there until the cops rescued a cat."
A police spokesman told Patch they weren't sure how the animal made it on the expressway and it's not clear where authorities will be taking it.
The ASPCA says 31% of cats owned in the U.S. were obtained from an animal shelter.
In 2017, another cat was rescued from the BQE by a local cafe owner according to dnainfo.