New York barber goes viral for giving man in wheelchair a haircut outdoors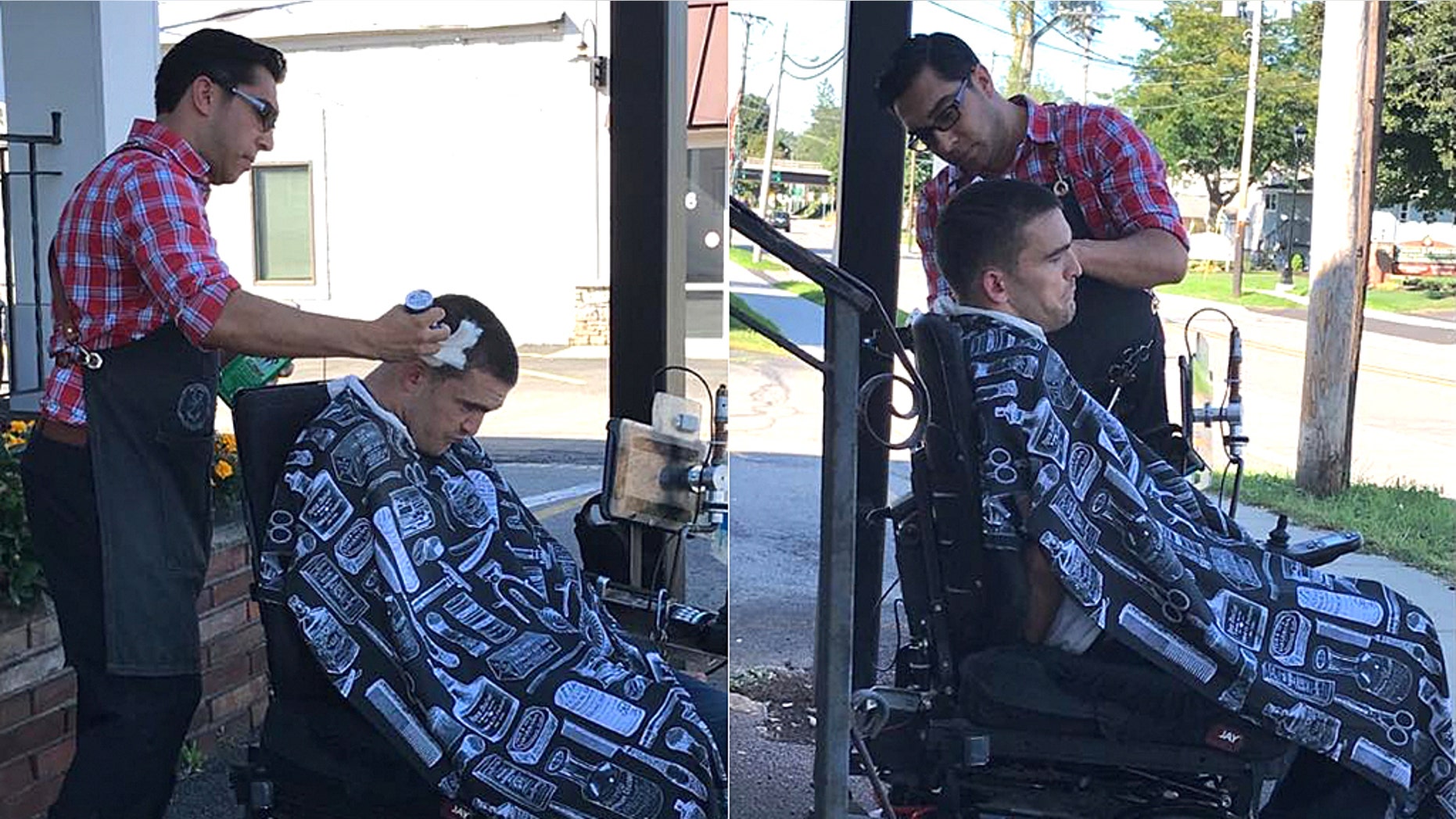 Everyone loves the feeling of a fresh haircut, and one New York barber is winning praise for making accommodations to style a customer's hair outside of his non-wheelchair-accessible shop.
Earlier this week, Joe's Upscale Barber Shop in Webster posted photos of staffer Victor Burgos and an unnamed male customer to Facebook, where they have since gone viral.
"A few days ago at the shop, we had a man in a wheelchair come to the shop on a recommendation. Unfortunately we are not handicapped accessible. Then our phone rang. It's was the man outside looking for a way to come in," the shop manager wrote online. "Instead of telling him we couldn't do it because we are not handicapped accessible, Victor Burgos went outside with his tools and cut his hair on the sidewalk."
TEXAS MIDDLE SCHOOL'S 'BATHROOM INSPIRATION PROJECT' AIMS TO EMPOWER STUDENTS
"I couldn't be happier to work and know a person of such kind nature as Victor. I'm proud to know that even when I'm not around, our staff will go out of their way. Just to make someone happy!! He did not have to do this," the manager continued. "Vic is one of our busiest barbers and is always busy. So Vic, thank you for being that [guy] and not only always proving what type of person you are but also being a CLASS ACT."
The author added that "Vic had no idea these pics were even [taken]."
In the days since, though the story of the good deed has since won over 2,000 likes on the social platform, it has also sparked mixed reactions. Some users heaped praise on Burgos, but a few others felt it was disrespectful to cut the man's hair in the street.
"Omg how sweet!! We need more ppl like Victor in this world!!!!!!!!!" one fan said.
"Thank you Victor for an excellent cut... Ramps and doors are not what makes businesses and homes accessible.... It's people!" another agreed.
"Who wants their haircut in the street? Be accessible, or help him find a place that cares about people's dignity instead of how good [it looks] helping the poor disabled guy," a critic clapped.
FOLLOW US ON FACEBOOK FOR MORE FOX LIFESTYLE NEWS
According to Yahoo Lifestyle, the local community of Webster was reportedly so moved by Burgos' actions, they are working to get Joe's Upscale Barber Shop a wheelchair ramp.
In the meantime, Burgos told Inside Edition he is "happy to cut the man's hair outside, whenever he needs a trim."