Nail salon defends risqué name, claims customers like it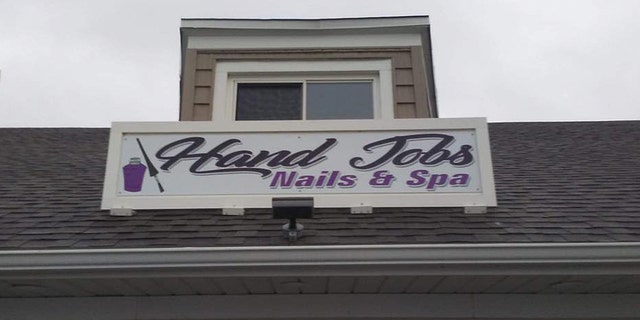 That's one way to get people talking.
A new nail salon in Ohio is raising eyebrows with its double-entendre of a name — but that's exactly what the owner intended.
SOUTH CAROLINA NAIL SALON ALLEGEDLY KICKS OUT CUSTOMER FOR BEING 'TOO BIG'
"In less than a week, I think the whole country knows about us," said Dawn Moon, the owner of Hand Job Nails & Spa in Perkins Township, in an interview with WOIO.
"If you go in and get your nose done it's called a nose job, right? Well, you come in and get your hands done. You think of something like that and don't know if you'll ever do it, but I did," she added.
CLICK HERE TO GET THE FOX NEWS APP
The township's zoning director claims to have received complaints over the name of Moon's business, but Moon claims she was granted a license, and plans to keep the name of her business as is. She also said her customers and staff seem to like the playful name.
The town, however, is reportedly reviewing the zoning approval for the salon's outward-facing signage, according to WOIO.
FOLLOW US ON FACEBOOK FOR MORE FOX LIFESTYLE NEWS
This isn't the first time a shop has faced backlash over having a cheeky name. In January, Pho Keene Great restaurant in New Hampshire was called "offensive" and accused of violating terms of its lease with the city.
However, after a bit of a battle, the restaurant, which is due to open in March, was allowed to keep its punny title.