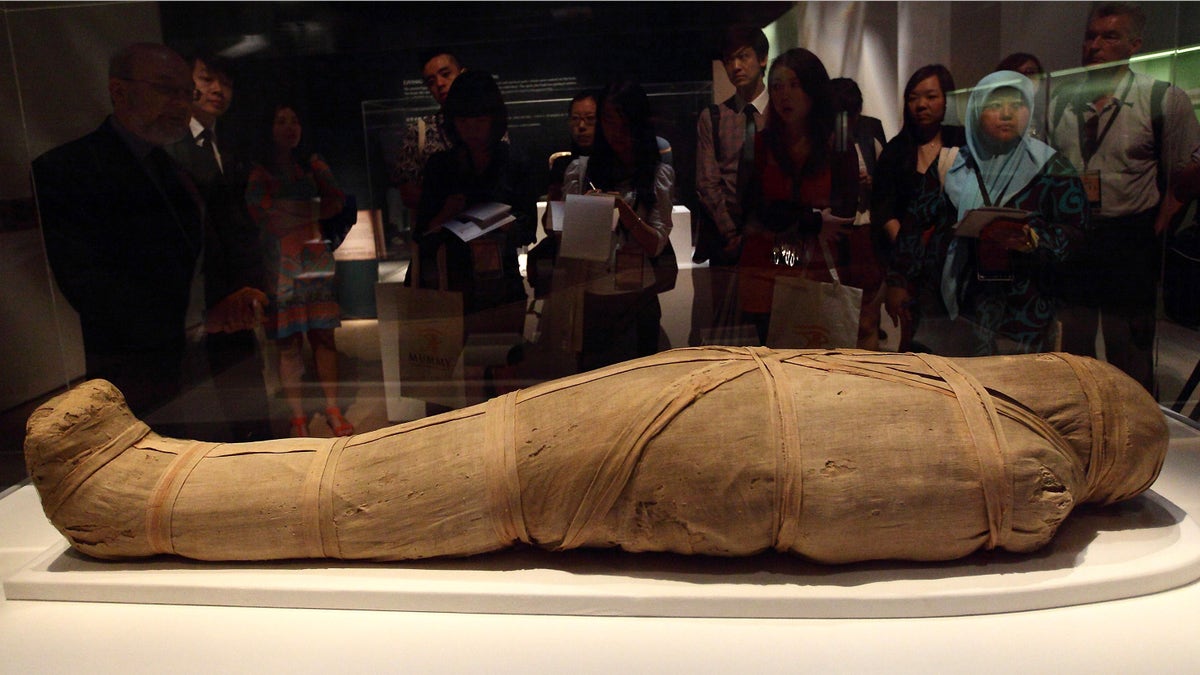 CINCINNATI (AP) – Medical scans of mummified remains in a touring exhibit at an Ohio museum exhibit are those of a girl who lived more than 500 years ago in Peru.
The Cincinnati Museum Center recently reported the results of a collaborative effort with Cincinnati Children's Hospital Medical Center to learn more about the remains. The mummy is part of "Mummies of the World: The Exhibition" on display at the museum through April 26.
The body was taken to the hospital in January to undergo X-rays and computer tomography. Dr. Andrew Trout, a Children's Hospital radiologist, says the machines produced stunning images of "beautifully preserved" bones and organs.
Heather Gill-Frerking, director of science and education for the exhibit at the museum, and Trout estimate the child was about 3 years old.
The girl's people most likely placed her body in a space where the dead were kept and Peru's hot, dry climate allowed for natural mummification. The mummy was found sometime in the mid-20th century near El Cima, about 25 miles east of Peru's capital, Lima, The Cincinnati Enquirer reported. A donor gave her to the San Diego Museum of Man in 1978.
Images of the girl's bones testify to seasonal food shortages, according to Trout and Gill-Frerking. They say the body did not show signs of violence or chronic disease.
The CT scans and X-rays of the girl's body are a significant improvement on earlier forms of mummy study, officials said. Gill-Frerking said that as late as the 1970s, examination of a mummy meant destroying it by unwrapping the body and performing an autopsy.
Museum officials say they hope the information gained about the mummy may help future medical and archaeological research.
Resin replicas of the mummy's skull and of the whole skeleton were made with the help of a 3-D printer. Those copies will stay with the mummy for museum visitors to see the fine detail of the body.
"Any time you have an opportunity to help solve a mystery that's over 500 years old it's really exciting," says Dave Duszynski, vice president at Cincinnati Museum Center. "You literally get a glimpse back in time at a person who still has stories to tell."