Moose crashes Alaska couple's wedding, 'obliviously' gallops through ceremony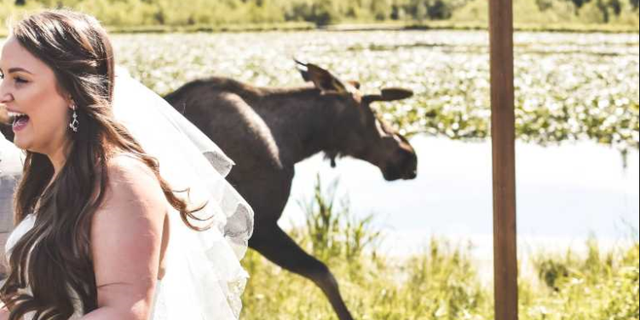 An uninvited moose hilariously interrupted a couple's wedding ceremony on Saturday, running near the altar as the pair said their "I do's."
The furry creature was also "oblivious" to the crowd, feasting on shrubs and standing in perfect view of the newlyweds.
Photographer Bria Celest said high school sweethearts Shandalyn Brown and Alan Cuellar laughed it off. After all, it's not an unusual sight in Anchorage, Alaska, where the service was held.
"We all just laughed because moose are commonplace and it was obliviously chewing a tree in the middle of the pastor's speech about love and what not," Celest told Fox News. "It was just a funny moment."
ADAM SANDLER CRASHES MONTREAL COUPLE'S WEDDING PHOTO SHOOT: WE WERE 'OVER THE MOON'
But Celest wasn't prepared for what the animal did next.
"I'd like to think it was a good omen."
"It just randomly galloped out of the woodsy area and through the ceremony," Celest explained. "I'm not sure if something startled it or it was just confused by all the people or what."
Shandalyn burst into laughter as the ceremony paused and all 100 guests watched as the moose roamed around the surrounding area. As soon as the animal was out of the picture, the pastor returned everyone's attention to the bride and groom.
SCANTILY CLAD SUNBATHER REFUSES TO MOVE OUT OF COUPLE'S WEDDING PHOTOS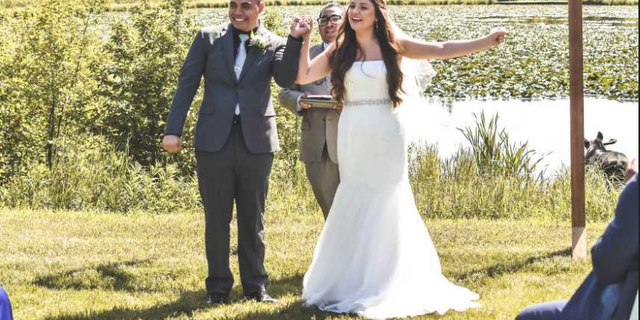 "[He] just reined everyone back in," Shandalyn, 22, told the Anchorage Daily News. "He said, 'Let's get this done, let's get them married.'"
The creature stood by the pond as the couple exchanged vows.
"The moose stuck around through the rest of the ceremony and then we had the reception inside, so I'm not sure how much longer it stayed by the pond," Celest said.
FOLLOW US ON FACEBOOK FOR MORE FOX LIFESTYLE NEWS
Celest believes the moose brought the couple good luck.
"I'd like to think it was a good omen. They've been together seven years now so maybe the moose was just wishing them the best on their next step in life," she joked.