Marine Corps adopts new puppy mascot: 'He's a great puppy and new recruit'
The Department of Defense announced with pride that the Marine Corps has a new canine mascot, fittingly sharing the news with a video on National Puppy Day.
The Marine Corps introduced 10-week-old English bulldog Chesty XV to the world Friday, with a now-viral clip on Facebook in which the male puppy explores his surroundings at the Marine Barracks in Washington, D.C., meets his predecessor Chester XIV, and smells his official canteen.
MARINE-TURNED-BIKINI-MODEL SHANNON IHRKE AIMS TO INSPIRE, SAYS SHE'LL ALWAYS 'BLEED GREEN'
No one will be barking instructions in Chesty XV's face just yet, though, as Marine spokeswoman Capt. Colleen McFadden confirmed. The pup is set to shadow Chesty XIV until he is ready to participate in official Marine ceremonies independently, on or about July 6 this year.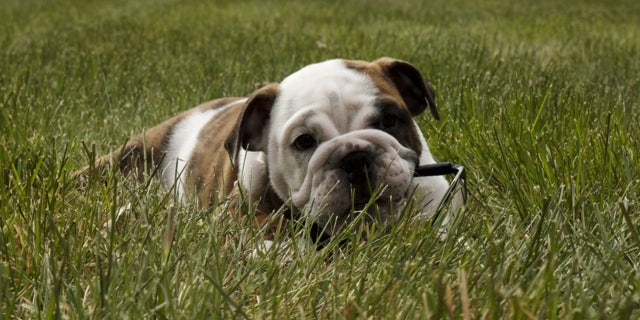 "He will remain as 'recruit' until he gets promoted before he officially takes over as the Marine Corps mascot next year," McFadden told Marine Corps Times of the pup's March 19 arrival. "He is a great puppy and new recruit. The Barracks was very excited to welcome him aboard today."
WALMART EMPLOYEE WOWS SHOPPERS WITH NATIONAL ANTHEM PERFORMANCE, DAYS AFTER SON LEFT FOR BASIC TRAINING
"Recruit Chesty XIV is a symbol. He's symbolic," GySgt. Aaron Calderon, drill master at the Marine Barracks Washington, says in the video. "Even though he's only 10 weeks old, he's still that little devil dog that is inside of us all. Symbolically, as a recruit, we come out of recruit training as little devil dogs, and this is us."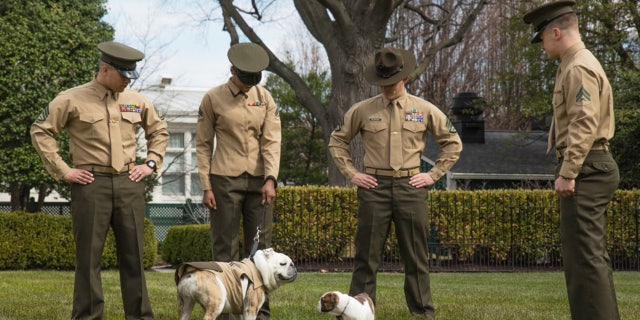 "As we mature and grow, just like he will mature and grow, he'll represent us throughout the Marine Corps, throughout his time here while he serves at the Marine Barracks Washington," he added.
FOLLOW US ON FACEBOOK FOR MORE FOX LIFESTYLE NEWS
Both the mascot and mascot-elect are named after the legendary five-time Navy Cross recipient Lt. Gen. Chesty Puller, the Marine Corps Times reports. Chesty XIV has been in service since 2013 and is set to retire before next year's parade season. When he does, he'll pass on his duties of drill ceremony and parade participation with the Marine Corps Silent Drill Platoon to Chesty XIV.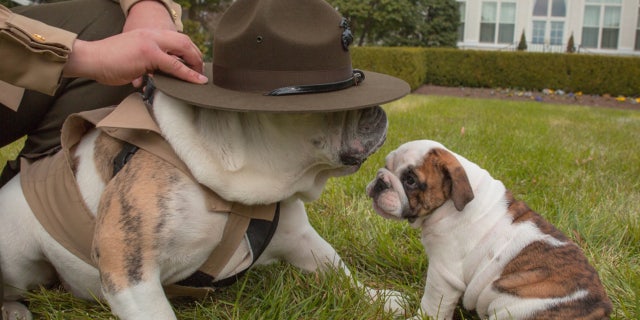 When Chesty XIV was asked for comment on his new career, he chewed the microphone (for real!)