Lena Dunham slams Revolve for featuring her controversial sweatshirt design on 'thin white women'
Lena Dunham says she no longer supports the controversial collection of sweatshirts she helped create with brand LPA that are being slammed for their fat-shaming message.
Online retailer Revolve released one of the sweatshirts on its website earlier this week. The gray crewneck, worn by a slender, light-skinned model, reads: "Being fat is not beautiful it's an excuse."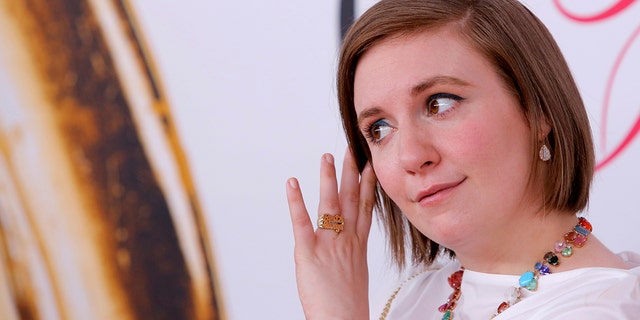 Many people online were outraged by the clothing item's perceived message, calling it "gross," "judgmental" and "damaging."
93-YEAR-OLD 'CANDY MAN' FROM IOWA BUYS HIS NEIGHBORS CHOCOLATE EVERY WEEK
In an Instagram post featuring a close-up of a Peter Paul Rubens painting of feminine curves, Dunham explained she no longer wants to be involved with the sweatshirts.
"Without consulting me or any of the women involved, Revolve presented the sweatshirts on thin white women, never thinking about the fact that difference and individuality is what gets you punished on the Internet, or that lack of diversity in representation is a huge part of the problem (in fact, the problem itself.) As a result, I cannot support this collaboration or lend my name to it in any way," she wrote. LPA noted the sweatshirt was meant to be modeled by Dunham.
Dunham also expressed her "deep disappointment" for the way Revolve handled "a sensitive topic and a collaboration rooted in reclaiming the words of Internet trolls to celebrate the beauty in diversity and bodies and experiences that aren't the industry norm."
TEXAS SCHOOL DISTRICT TO REEVALUATE 'SEXIST' DRESS CODE BECAUSE OF ONLINE PETITION
Both LPA and Revolve have since put out statements apologizing for the sweatshirt and explaining that the collection was conceived in collaboration with Lena Dunham, Emily Ratajkowski, Cara Delevingne, Suki Waterhouse and Paloma Elsesser as a way to spotlight online bullying with proceeds benefiting Girls Write Now, a charity aimed at empowering girls.
"The prematurely released image featured on Revolve.com was not only included without context of the overall campaign but regrettably featured one of the pieces on a model who's size was not reflective of the piece's commentary on body positivity," the Revolve statement read.
FOLLOW US ON FACEBOOK FOR MORE FOX LIFESTYLE NEWS
Revolve has since donated $20,000 to Girls Write Now. Dunham said she would also be making donations "to the charity of every woman's choice who was wronged with me."