Jimmy Kimmel accuses clothing brand of stealing his daughter's design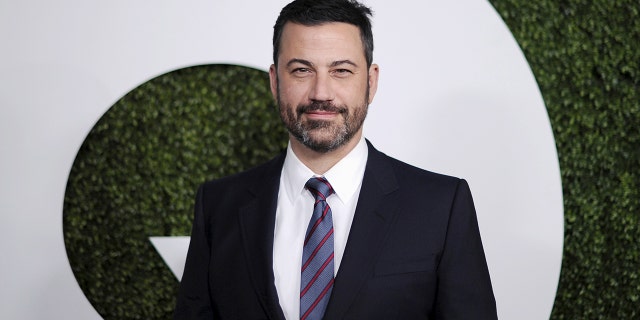 Jimmy Kimmel is calling out clothing company Reformation for allegedly stealing his daughter's designs.
In a tweet sent out Monday, the late-night TV host said it was a "scumbag move" for the eco-friendly brand to copy the ideas of a "young artist."
6 STYLISH GIFT IDEAS FOR THE FASHIONABLE FITNESS ENTHUSIAST
Kimmel included a photo of the Reformation shirts in his post, which feature pasta-themed words written across the chest, like "al dente" and "spaghetti pomodoro."
He also tweeted a link to his daughter's design, which is a similar-style T-shirt that reads "linguini and clams" on the front.
Kimmel's 26-year-old daughter Katie has an online shop where she sells ceramics and a number of T-shirts and sweatshirts with food-related phrases, including "chicken parm," "lava cake" and "lentil soup."
Katie also addressed the matter on Instagram, posting a photo of herself superimposed over an image of the model wearing the Reformation shirt.
"Omg @reformation loooove this shirt!! I also put steak Diane and lava cake on tops too," she wrote.
The Reformation "Joplin Relaxed Tees" sell for $38 and are all waitlisted. Katie's T-shirts are $25 and sweatshirts are $40, all of which are currently sold out.
In the wake of the backlash, Reformation issued a statement via the comment section on an Instagram image of their "al dente" style tee, which reads:
FOLLOW US ON FACEBOOK FOR MORE FOX LIFESTYLE NEWS
"Graphic word tees, sweatshirts and jackets have been a part of the Reformation brand and design aesthetic since we launched in 2009. We have a deep respect for artistic integrity and would never replicate or appropriate the work of a young artist, or any artist for that matter. This T-shirt collection is an extension of our 'Carb Collection' that launched in 2015, inspired by the 'carb' in 'carbon emissions,' as our brand mission is to provide a sustainable way to be fashionable."