Indiana school district returns purse, note from admirer to former student who lost it in 1950s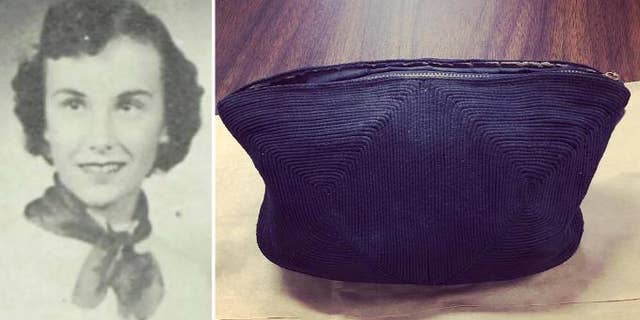 A long-lost handbag has been returned to its owner after 65 years, all thanks to a successful social media campaign.
The Greater Clark County Schools in Indiana posted a photo of the black purse on its Facebook page last week, asking social media users to help them track down former student Martha Ina Ingham, who apparently lost her purse in 1954.
The clutch was discovered while workers were demolishing the Jeffersonville High School building in order to make way for a new elementary school being built at the site.
Ingham graduated from the school in 1955 and would be in her early 80s, WLKY reported.
CHUCK E. CHEESE'S FORCED TO DENY RUMORS OF SPLICING TOGETHER LEFTOVER PIZZAS FOLLOWING VIRAL 'CONSPIRACY' VIDEO
The purse contained a tube of red lipstick, a bus schedule, a first-place ribbon for a mile relay, and a note from an admirer asking Ingham to prom. (In the note, the admirer claimed to be aware that another person had already asked her to the dance.)
On Saturday, the district announced they had located Ingham, who now lives out of state. A district spokesperson told WLKY that the feat was made possible "thanks to the power of social media."
FITNESS INFLUENCER UNDER FIRE FOR ALLEGEDLY SCAMMING CLIENTS
"A family member came across our post, then shared it with Marty's youngest son. I shared my contact information and was able to speak with him, as well as one of her daughters, this past weekend," Erin Bojorquez of the Greater Clark County School District said.
"I'm thrilled that I was able to connect with Marty's family. I hope this little piece of history brings back fond memories of her years at Jeffersonville High School. I also hope to answer the community's burning question soon about who Marty took to prom."