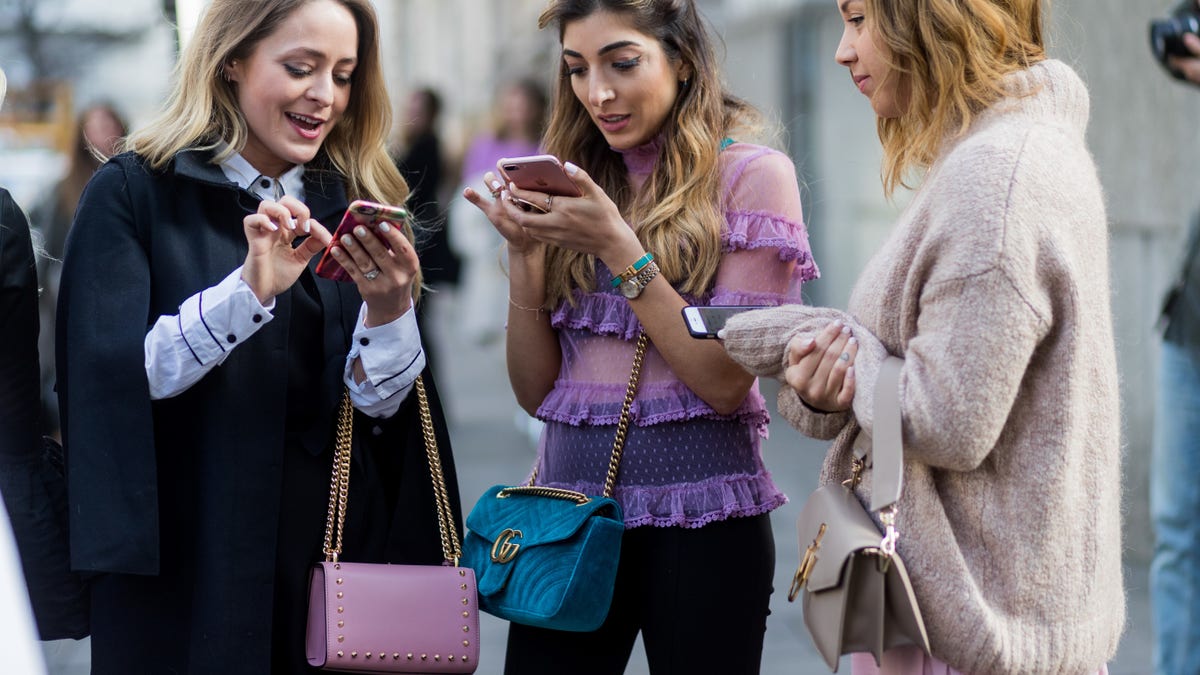 Sometimes it's hard to remember how single people met each other before dating apps like Tinder. Did we go out to bars? Just bang our friends when we accidentally lingered too long at the house party? It's amazing how quickly we've adapted to swiping through thousands of potential partners while half-watching reruns of Friends. And although I've never talked to a woman who didn't have complicated feelings about being on a dating app (as a single woman myself, whether I love or loathe Tinder changes every time I open it), there's very little comprehensive research on the wider effects of mobile dating. So Glamour conducted our own survey of 1,000 women and talked to experts to find out whether apps have really changed how we date. The answer is yes, and in more profound ways than we realized. Take a look:
We aren't really looking to "date," per se.
Asking for a little help finding a partner is hardly new—where would Patti Stanger of The Millionaire Matchmaker fame be if people didn't need expert advice? What Tinder changed (racking up 1.4 billion swipes a day, more than any other platform) was that it never actually said it was a dating app. "It killed the stigma of online dating by not being about online dating," says Steve Dean, founder of Dateworking, a consulting company for individual online daters and dating sites.
B.T. (Before Tinder), dating sites specialized based on a desired level of commitment—a casual hook-up, an actual relationship, marriage. But the app caught on because it made it OK to not know exactly what you were seeking. "Tinder says, 'Do whatever the hell you want; we're just going to show you people who are nearby and likely to start talking to you,' " says Dean. In that way, it mimics how people meet in real life.
Tinder's lack of an endgame fosters a culture in which a woman can be adventurous in any way she chooses. If you discover through Tinder that—oh, snap!—you're actually a "unicorn" and want to only have sex with couples (it's a thing alright), you can then go to a more specialized app, like Feeld, to meet them. Or if you just want a friend (straight up, no dick pics), BumbleBFF may be for you. And you can always sign up for Coffee Meets Bagel or eHarmony if you're hoping for a relationship. And it can work: More than 30 percent of women who use apps in our survey said they found a serious partner on them; 12 percent married their match.
More: This Coffee Truck Turned Its Lattes Into a Dating App
We are becoming super efficient.
Of course, the number-one change the apps have brought is the ability to access millions of single people at warp speed, at any time, wherever we are. That's how I started going out with a guy I matched with when my uncle's Christmas toast ran long (admit it, you've swiped under the table too). The upside of all these instant options is that we waste less time on relationships that go nowhere, and we're less likely to settle. We can set up five dates in a night if we want (though, frankly, that sounds exhausting), which means we're increasing the odds that we meet the right person just by playing it like a numbers game.
The downside to all that efficiency? It kind of is a numbers game. "It becomes like an addiction to novelty without substance," says Dean. "When you get a match with someone, it literally gives you a boost of dopamine, and you think, There's no cost to continuing to play. The dating apps know this, and they are exploiting the shit out of our reward pathways to make sure that we're always coming back." For example, two options show up when you get a Tinder match, one for talking to the person you matched with—intimidating!—and one to continue swiping—comforting and low-commitment! I know which one I tend to choose and I am hella single.
Working things out? Not a huge priority.
While this insane efficiency can get us more dates, some experts worry that it's not making us better daters. Let's put it this way: If dating is like fishing off the side of a ship, then mobile dating is like fishing from a glass-bottomed boat. Since you're now keenly aware of how many fish are swimming around at a given time, why wouldn't you (or the person you're dating) try casting for more than one? And what do you do when you catch something? You're less likely to invest the energy working through problems when there are all those other, ahem, fish in the sea.
We're getting good at getting dumped.
Remember that episode of Sex and the City in which Berger breaks up with Carrie on a Post-it note? At the time he was a raging asshole, but in today's dating world that seems downright chivalrous. Now you could have a perfectly good date and then the person just disappears, like in The Leftovers. But ironically, experts suggest all that ghosting could actually be making us stronger. "When you're afraid of spiders and you expose yourself to spiders, after a while they have less meaning for you," says New York City licensed therapist Lia Avellino. "[Being ghosted] could be building up resilience and helping us let go more easily." All those breakups and blow-offs? They're like exposure therapy, but for rejection.
More: Dating App Culture Is Being Reconsidered, and We're All About It
Enter the "sex interview."
Don't worry. It's not as sketchy as it sounds. This year Match's annual Singles in America survey of 5,500 men and women asked participants whether they'd ever engaged in sex before a first date. A sizable 48 percent of them said yes. Not to be confused with hooking up, these people had gotten in bed together before even going to a bar together. It's a phenomenon that Helen Fisher, Ph.D., a biological anthropologist and the site's chief scientific adviser, calls the "sex interview." "A lot of young people now don't want to spend time going out with somebody unless they get to know them physically first," she says. "You can learn a lot about people between the sheets. Are they kind? Can they listen? Do they have a sense of humor? Millennials are using sex as an interview tool and even a courtship tool to jump-start a relationship." (And as long as you're safe, it's actually a pretty fun way to save time.) Of course, dating will always be as complicated as a swipe is simple. But apps have "definitely created more space for women to sprawl out and explore," says Avellino. And knowing what we want can make us happier when we do find a partner—or partners, if that's what you're into.
Cady Drell is Glamour's sex and relationships editor.