Hanukkah: A Journey from Nazi Germany to the Dominican Republic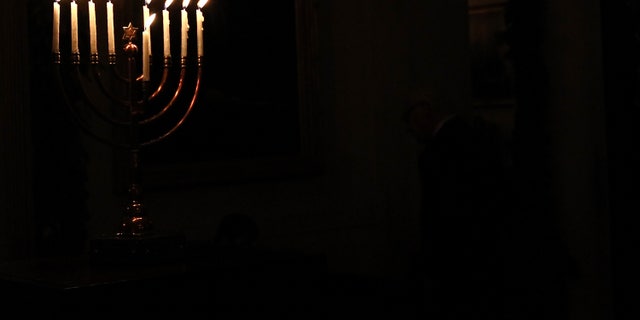 Like millions of others, Ruth Kohn will be lighting a menorah tonight to celebrate Hanukkah, an eight-day observance that commemorates Jewish survival over oppressors.
But to Kohn, who ended up in the Dominican Republic after fleeing Berlin during the height of the Holocaust, when millions of Jews were killed, Hanukkah means something else.
It means being grateful that her and her family were able to escape Hitler's Germany with only hours to spare.
She fled Berlin at age 14 on Oct. 14, 1941.
"You couldn't leave Germany if you were between the ages of 18-45. My mother was 48, my father was 54 or 56. It was a miracle because the very next day the age limit was changed to 60," Kohn told Fox News Latino.
The family arrived to Spain by train, then on to Lisbon where she stayed for three weeks before a ship came to take her family to the Dominican Republic. She was among about 500 Jews who found haven in the country after the president offered them refuge. The all-Jewish agrarian colony, established in 1939, was called Sósua.
Upon arrival at Sósua, Kohn began a more normal life, a life where she could be free and did not feel afraid.
I could walk around in Sósua, I was free. No one spit at me, no one shouted at me. I didn't have to wear a yellow star with JUD written on it anymore.
"When we landed in the capital, we slept in mosquito nets, it was all a strange experience," said Kohn.
Not to mention the fact that she left behind the only home she'd ever known, left behind friends, neighbors and a school.
"When we arrived to a free country, we left our home, but our home wasn't really our home anymore," Kohn told Fox News Latino. "We were very happy. I remember when my father said: 'We are going to Santo Domingo.' Everyone asked, 'Where is that?' But it did not matter."
Kohn did not know Spanish, and was not allowed to speak German, but she picked up the language quickly.
"I had a girlfriend and she was there already for a year," she said. "I asked her to speak Spanish to me and she helped me get used to the language."
Kohn had a new life, new school, new routine and new friends.
"I could walk around in Sósua, I was free," Kohn said. "No one spit at me, no one shouted at me. I didn't have to wear a yellow star with JUD written on it anymore."
Her life there was a distinct chapter in Dominican history.
"The Jewish museum in Sósua has my report card," she said. "I was a very good student in Germany but a terrible student in The Dominican Republic."
Unlike Germany, Kohn could now have aspirations. She decided she wanted to be a nurse.
"A German head nurse trained us, fabulously. I loved nursing," said Kohn.
Kohn put the tragedies of the war behind her. She married a doctor, had a son then realized it was time to move on from the tiny town that saved her from Nazi Germany. They moved to the United States.
"My husband wanted to specialize, and we knew we couldn't stay in Sósua after the war," said Kohn.
They started a new life in New Jersey. They had two more children. Her husband became a child psychologist. Eventually, her children went off to college.
After years of being a stay-at-home mom, she took a job at a mental health clinic.
"I became a mental health worker. I worked full time after a while, when people heard that I spoke Spanish I had a complete caseload," she said. "I worked for 21 years."
Now, Kohn tells unique story to anyone who wants to hear it. And uses every chance she can to remind people how much she loves The Dominican Republic.
"I feel very strongly about The Dominican Republic," she said. "I am a citizen of the United States because the Dominican people saved me."
Kohn said she will never forget the people who were kind to her, the people who gave her the ability to grow.
"Dominican people are a kind people. They were not hostile toward us, there was no anti-Semitism," she said. "It was great to be with people who didn't think we were horrible."
Kohn has revisited Berlin many times. Mostly because she wants to be herself in the place she was born.
"I wanted to walk the streets where Adolf Hitler wanted me dead. Now Hitler is gone and I am still here," she said. "I felt good because I was walking in peace where the Nazi's would curse and shout at me."
While Berlin may be Kohn's native country, her heart belongs to the Dominican Republic.
"I feel Sósua is really my country, I have a flag on my lapel on one side is the American flag and on the other is the Dominican flag," said Kohn.
And today, she will be doing something she has done for years.
"I will be celebrating Hanukkah like everyone else," she said. "That's how I always did it no matter where I was at. Being in Sósua did not change my tradition."
Follow us on twitter.com/foxnewslatino
Like us at facebook.com/foxnewslatino