'Half Size Me': How a formerly obese mom of 3 dropped half her body weight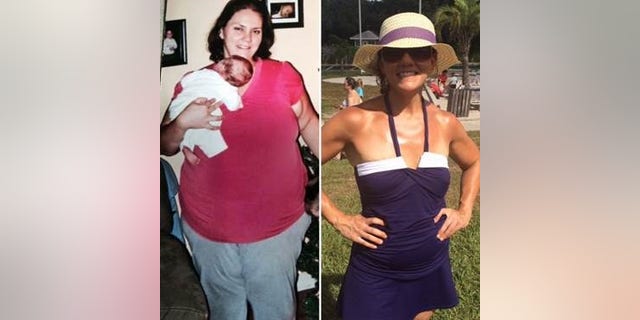 Like many Americans, Heather Robertson's relationship with food at a young age influenced her weight in adulthood.
"I was using food to cope, so whenever I got time by myself or got money, I was buying food to eat for myself, and I wasn't particularly active," 41-year-old Robertson, of Lakeland, Florida, told Fox News.
Throughout her 20s and 30s, Robertson's weight would fluctuate from 250 to 290 pounds as she tried fad diet after fad diet with limited success. Later, during her first pregnancy, she would peak at 339 pounds.
"I decided then that I was going to make a change," said Robertson, who explained her OB-GYN's advice not to gain any more weight during pregnancy helped motivate her to alter her lifestyle.
WOMAN SHARES THE DIET SHE USED TO LOSE 100 POUNDS
Over the next five years, Robertson joined Weight Watchers and ended up developing sustainable healthy habits, like exercising for fun and not depriving herself of dessert. Eventually, her hard work paid off and she ended up dropping 170 pounds, or about half of her body weight.
That accomplishment, which she calls her "Mt. Everest," has become the basis of her company, Half Size Me, in which she teaches other people how to do the same.
"We wanted people to know [weight loss] is possible," said Robertson, but "they have to change their mindset."
Through Half Size Me, the mom of three boys coaches other people like herself through a podcast, a community program and a personalized coaching program. Since the company's inception in 2012, Robertson has served "tens of thousands" of people, she said.
8 LITTLE CHANGES THAT CAN LEAD TO WEIGHT LOSS
The podcast is free to download, but joining the community, which involves online support and weekly webinars, is $19.99 per month. On the podcast, Robertson interviews other people who have lost weight and asks them to share their tips, and through the webinars, Robertson teaches her followers weight loss lessons like how to better manage their time and break the diet cycle.
The basis of Robertson's approach involves asking the question, "Is this something I am willing to do for the rest of my life?" She offered the example of passing up birthday cake at parties, which she no longer does because for her, saying no wasn't sustainable.
"I had to change my mindset and say, 'What can I do and maintain my weight?' because I don't want to lose all that weight and gain it all back," she said.
Another tenet she teaches? Moving every day for at least 30 minutes.
"Your minimums should be your bare-bone minimums," she said. "I track my weight every day even though it may not be pretty. Every day, I move 30 minutes. I can go above that, but I can't go below that."
DITCH THESE RUNNING EXCUSES TO JUMP-START YOUR WEIGHT LOSS
Through her coaching program, which so far involves 25 to 30 people, Robertson has found that another core practice to help individuals maintain weight loss is being open to different types of exercise, especially in the event of an injury.
"I see this come up time and time again: If they can't do the activities they love to do, their eating habits go out the window," Robertson said. "You have to realize the modality of your fitness has to change. If you have that space for fitness, you've allowed yourself to grow and adapt."
Today, Robertson tries to keep her own weight between 150 and 160 pounds — an achievement that's helped her get back on her feet, grow her business, and raise her three sons.
"There are so many gimmicky diets and plans, and people get sucked in, and I know this because I did this," Robertson said. "What we want people to know is there are so many various ways of doing this and you have to find what works for you. There's no right way or wrong way."
FOLLOW US ON FACEBOOK FOR MORE FOX LIFESTYLE NEWS