Gym manager slams fat shamer in viral Facebook video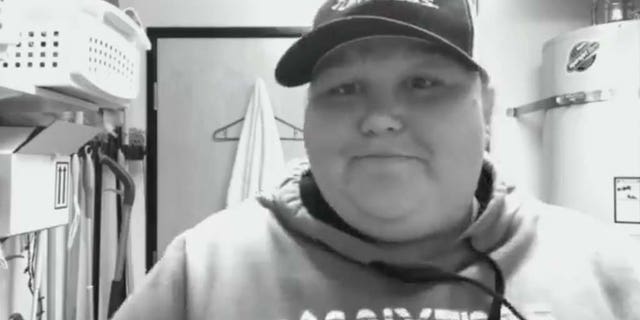 NEWYou can now listen to Fox News articles!
One gym manager in Nevada has gone viral on Facebook for calling out a fat shamer in an anti-bullying video, inspired by her own 120-pound weight loss journey.
Mandi Holden, manager of Anytime Fitness in North Reno, was recently inspired to speak out when she overheard a man touring the facility utter a negative comment about her size. The mother of two weighed 420 pounds before joining a gym in 2014, and decided to speak up.
In the seven minute clip that has since been viewed over 212,000 times on the social network, Holden says a group was about to tour Anytime Fitness when she overheard the potential new member say, "Well, it doesn't look like she works out very much."
MISS BUMBUM'S FIRST TRANSGENDER CONTESTANTS SPARK BACKLASH
Letting the tour carry on, Holden decided that she was going to say something when they returned to her office to discuss membership options.
"I'm not going to pretend like I didn't hear it, like I usually do, because I know that people make comments all day every day. And that's part of this job that I have accepted," Holden recalls in the clip as she gets teary eyed. "I know how far I've come and the privilege of working here [is] representing fitness for everybody which is important and sometimes it comes with weird comments from people who don't understand."
When the group returned, the manager made her thoughts clear.
""I just want to let you know, I know it looks like I don't work out very much, but that's because you did not see where I started from. Don't judge a book by its cover. We don't judge people by how they look here because you might be surprised,"" she says she told the guest.
Proceeding to explain membership options without skipping a beat, Holden says that the man did not apologize, and did not ultimately sign up for the gym. However, she is proud that she chose to come forward with her message of inclusion, as her facility has a zero-tolerance policy for bullying.
WOMAN WITH CHIN TATTOO ACCUSED OF APPROPRIATING NATIVE NEW ZEALAND CULTURE
"Our members here are all kinds of shapes, sizes, and orientations. It's really important for them to feel safe and that they're not going to be made fun of. And I think I felt compelled to do the video after because that's still OK in our culture," Holden told Yahoo Lifestyle on May 25.
"It's so accepted to just assume that overweight people are lazy and sloppy. It bums me out because so many people of all different shapes and sizes and circumstances come in and work so hard every day."
In the days since posting the video, Holden further divulged that she feels "very overwhelmed with love" with the outpouring of support she has received, and urges others to "show kindness" no matter what.
FOLLOW US ON FACEBOOK FOR MORE FOX LIFESTYLE NEWS
"If you see someone in the gym ... and they don't look the part, you don't know where they've been, what they've accomplished," she said. "I beg you, please, show kindness, show empathy."