Company launches denim thong as 'show-stopping festival outfit'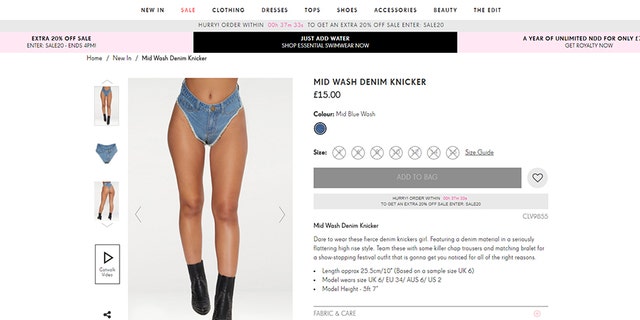 Forget skinny jeans, the hottest new denim trend is . . . skivvy jeans?
PrettyLittleThing, a budget fashion brand regularly endorsed by Instagram models, recently unveiled its "Mid Wash Denim Knicker," which features a thong-style back and is described as "a show-stopping festival outfit that is gonna get you noticed for all of the right reasons."
These short shorts — which retail for $25 and are somehow already sold out — are going viral on social media.
"How ridiculous," wrote one user on Twitter. "I worry about the people who would actually buy this."
"Seriously why does anyone ever want their bum hanging out for the world to see?" another wrote.
But some users are pointing out the unexpected utility of these panty pants, which the brand recommends pairing with chaps.
"Suppose you won't get mud on your jeans," wrote one.