Claire's pulls 17 makeup products that tested positive for asbestos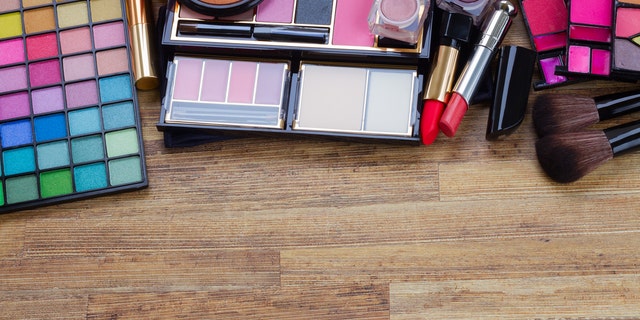 National retailer, Claire's, has yanked 17 makeup products off its shelves after one diligent mom discovered they contained asbestos.
Kristi Warner had purchased the makeup kit for her 6-year-old daughter from the accessories store in Providence Place Mall in Rhode Island, when she became concerned about the safety of the product.
Warner told WJAR she sent the beauty product to an independent lab to test for any harmful material.
MOTHER DEFENDS 3-YEAR-OLD DAUGHTER'S LOVE OF MAKEUP AFTER SOCIAL MEDIA OUTRAGE
The lab results came back positive for tremolite asbestos – a toxic substance that can potentially lead to malignant mesothelioma later in life, according to the National Cancer Institute.
"I physically sank," Warner told WJAR. "I ended up sitting on the ground, just trying to wrap my head around how something like that could end up in our home."
Warner felt compelled to test other products from other locations of the large retail chain. All in all Warner ended up sending 17 makeup products to the Scientific Analytical Institute from nine different states. Each one came back positive for asbestos.
Warner, who works for a law firm in Providence, was appalled by the results.
"In the work that we do, we've come across contaminated cosmetics, but you just assume that a children's product would be safe," said Warner to WJAR.
FOLLOW US ON FACEBOOK FOR MORE FOX LIFESTYLE NEWS
Since Warner's reports made headlines, Claire's has removed the 17 products from its store shelves, and released a statement on its Facebook page:
"At Claire's the safety of our customers is of paramount importance, and we are passionate about the safety and integrity of our products. We work closely with our vendors to ensure our products are tested and assessed in line with the relevant country regulations and guidelines.
As a result of today's inquiry from WJAR-TV, we have taken the precautionary measure of pulling the items in question from sale, and will be conducting an immediate investigation into the alleged issues. Once we have more information and have the results of the investigation we will take the necessary action."
The company also released a list of the products affected.
This isn't the first time children's makeup has tested positive for asbestos. The same lab, Scientific Analytical Institute, reportedly discovered asbestos in makeup products at Justice, another popular youth-oriented retailer. However, Justice has since dismissed the lab's results as being "inaccurate" after their own independent lab found no trace of asbestos in the products.