Bride invites bridesmaids to wear their own wedding gowns to nuptials
One bride uniquely asked her bridesmaids to sport their own wedding gowns to her recent wedding — though she ultimately stole the show in an ice blue frock.
Earlier this week, a photo of actress Audrey Moore and her 10 beaming bridesmaids went viral on Reddit, winning over 90,000 upvotes in four days.
"We thought it was sad that most women only get to wear their wedding dress once, so we invited all the women coming to our non-traditional wedding to wear their old wedding dresses again!" Moore's now-husband, writer Jesse Lumen, wrote on the social media forum platform.
COUPLE SLAMS BACKLASH FOR CROWDFUNDING THEIR WEDDING: 'WE'RE NOT MONEY GRABBING PEOPLE'
Tying the knot on Dec. 30, the California bride told BuzzFeed that they wanted their wedding to authentically capture the playful spirit of their personalities.
"We really wanted our wedding to really represent ourselves, our sense of humor, our creativity, and also not just celebrate ourselves but marriage in general as a choice," Moore said of the special day.
With that vision in mind, she and her groom mandated a unique dress code, inviting all of the women in attendance to wear bridal gowns and the groomsmen to wear matching tuxedo-style hoodies, while also giving merrymakers the option of arriving in costume as well.
The bride herself, meanwhile, looked lovely in an off the shoulder, ice blue gown.
FOLLOW US ON FACEBOOK FOR MORE FOX LIFESTYLE NEWS
Moore said her bridesmaids were all more than happy to wear again their own special gowns on her big day, too.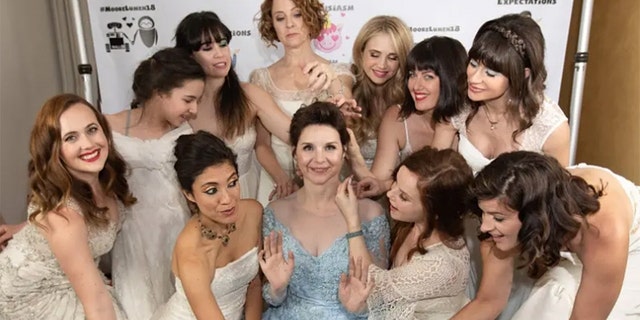 "I've been to all of their weddings and I saw them all in their beautiful dresses. I wanted them to have the opportunity to wear their really magical, beautiful dress a second time," she told the outlet.
Though some Reddit users voiced concern that unwed female guests in attendance may have felt left out by the wedding gown dress code request, the bride told BBC that it was all in good fun.
"I'm the last one to be married in my group of friends. I was pretty much the last girl standing," she said, detailing that some unmarried women "wore their mother's wedding dress or put on a costume."
CLICK HERE TO GET THE FOX NEWS APP
In the days since, Moore and Lumen's one-of-a-kind wedding day has won major applause on social media.
"I've filmed/edited well over 100 weddings. This is the coolest, most unique one I've ever seen," one Reddit fan wrote online.
"I would totally take this chance to be dressed as Darth Vadar at the wedding if you said I could wear a costume," another agreed. "Best wedding ever!"