Body transformation photo proves you need to eat more, not starve yourself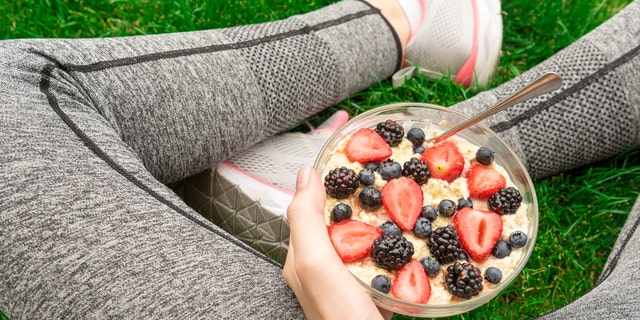 NEWYou can now listen to Fox News articles!
People looking to lose weight often feel the need to starve themselves, but one woman on Instagram proves that eating more is actually better for slimming down.
While it's true that cutting calories is necessary for weight loss, a high calorie deficit can actually be harmful and ineffective. That's why fitness blogger Nessa, of the Instagram account Nessa Sphere, posted an incredible transformation photo showing how calorie intake can be deceiving.
"You can't starve yourself ‼ When I see people saying that they eat 800-1200 kcal, this seriously scares me. You won't get any results on a long run with this amount of calories," the blogger posted.
In Nessa's before photo, she wrote that she had irregular eating. There were days when she would completely forget about food and others where she scarfed down an entire box of doughnuts. Once she established consistent eating habits, she saw incredible results.
CROSSFIT ATHLETE'S POWERFUL TRANSFORMATION PHOTO PROVES GETTING FIT TAKES TIME
"Your body and you need enough fuel to feel good, to take challenges and to achieve goals," Nessa wrote.
The blogger also recommends a healthy strategy to reach your fitness goals. "It is normal that when you want to lose fat you decrease your calories intake. However, you should be smart doing that. Don't put your body in a high calorie deficit straight from the beginning of the process."
Her advice? To decrease your calorie intake slowly, by about 10 percent for a few weeks, and see what happens. She credits her transformation primarily to a change in her poor eating habits, as well as exercise. But she suggests if you already restrict yourself and aren't seeing the progress you're looking for, you might just need to try eating more.
FOLLOW US ON FACEBOOK FOR MORE FOX LIFESTYLE NEWS
Nessa told SELF she eats five to six balanced meals a day, consuming between 1,900 to 2,000 calories. She also meal preps for the week so she isn't tempted to snack on something unhealthy.
She ended the post with words of encouragement for anyone looking to make a similar transformation. "It may be a little bit difficult at the beginning, you may gain weight but when your body adjust to it, you will see only benefits."