Missouri Boy, 2, Youngest in World to Use Artificial Lung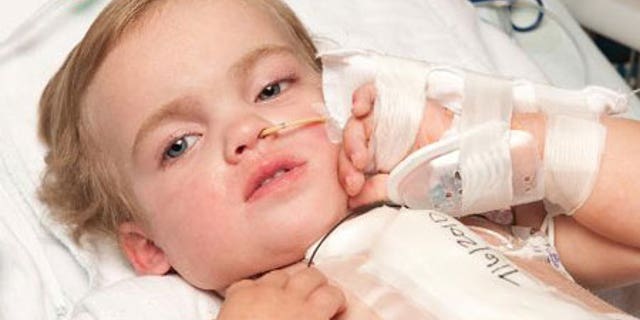 ST. LOUIS – When 2-year-old Owen Stark arrived at St. Louis Children's Hospital, he wasn't given much chance for survival. The little boy had collapsed at a store and his heart and lungs were shutting down.
But doctors used a German-built artificial lung that stabilized him so well that, at least for now, he no longer needs a lung transplant. The hospital said Owen is believed to be the youngest person to receive an artificial lung.
"I don't think there's any question it saved his life," Dr. Mark Grady, a pediatric cardiologist at St. Louis Children's Hospital, said Wednesday.
Owen's parents had noticed some signs their child wasn't healthy. He wasn't eating much and had a low-grade fever, said his father, Justin Stark, a 30-year-old construction company owner. Doctors in their hometown of Eldon, Mo., thought at first he had a bad cold, or maybe a kidney disorder.
Owen had just been to yet another doctor's visit with his mom, Tonya, when he collapsed June 10 at a Toys R Us in Jefferson City. He was taken by ambulance to a hospital in Columbia, then flown to St. Louis Children's.
"I believe he flat-lined several times when he first got here," Justin Stark said. "It's about the worst experience I could ever imagine going through."
Doctors determined Owen had idiopathic pulmonary hypertension, or high blood pressure in the lungs. The disease is very rare and almost unheard of in young children.
Grady said Owen was given little chance of survival without a lung transplant. Problem was he needed one immediately and the process can take months.
Owen was placed on a heart-lung bypass machine called ECMO, but after about two weeks it can cause organ damage and leave a child ineligible for a transplant. So the hospital's transplant team, led by Dr. Charles Huddleston, petitioned the Food and Drug Administration to use a Berlin-made artificial lung device called NovalungsLA.
The device is used in Europe and Canada, Grady said, but not FDA-approved in the U.S. However, the FDA granted a "compassionate release use," essentially special permission.
Doctors had hoped the device would buy time while they waited for a lung to become available. They were shocked to see how well the boy recovered while on the artificial lung. In fact, Owen's lung function has improved so much he is no longer on the transplant list.
"Absolutely amazing," Stark said. "He had no other options at that point. It was either going to work or that was it."
There have been complications. Owen suffered a stroke about three weeks after the artificial lung was put into use. It was removed, and he is undergoing therapy. The family sees improvement each day, Stark said.
Grady said Owen may eventually need a transplant because his disease is progressive. Still, the doctor said the boy's recovery so far is nothing short of amazing.
"He's got the potential to be able to go home, which we didn't think was even possible," Grady said. If Owen continues to improve, he could leave the hospital in about a month, Grady said.
The success also shows the artificial lung can be of value to very young patients, potentially opening the way to treat even newborns, Grady said.
"There are tons of premature infants with chronic lung disease," Grady said.
Justin Stark said there is some consolation in knowing Owen's procedure could help other children in the long run.
"We would have given anything not to be the first, but it's nice to know that," he said