E. Coli Death Toll Reaches 35 as Germany Warns it Could Rise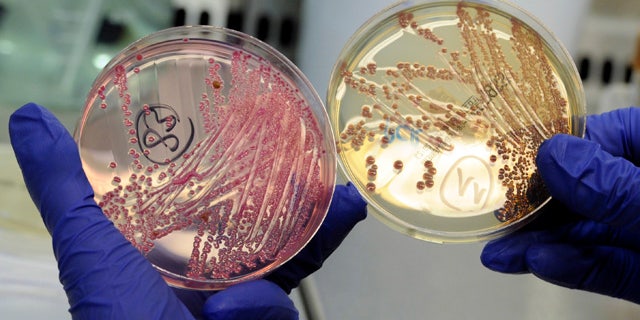 BERLIN – The death toll from a killer bug outbreak centered on Germany rose to 35 Sunday as health officials said it was the worst of its kind on record and the government feared more people could die.
"More fatalities cannot be ruled out, painful though it is to say," Health Minister Daniel Bahr told the Bild am Sonntag newspaper, while adding that the number of new cases was in decline.
"The continuing fall in the number of new infections gives grounds for optimism. But that does not rule out more cases of EHEC (enterohaemorrhagic E. coli)," he said.
The Robert Koch Institute (RKI), Germany's national disease agency, said Sunday that the death toll had risen to 35, but that the rate of new infections had continued to abate.
"We do not expect a fresh rise in cases," RKI spokesman Guenther Dettweiler told AFP. "The outbreak is receding."
All but one of the 35 deaths from EHEC poisoning have been in Germany, with the other being a woman in Sweden who had recently traveled to Germany.
Some 3,255 people have also fallen sick in 14 European countries plus the United States and Canada, according to the World Health Organisation. All but five cases were in people from or who had visited Germany.
Many are seriously ill with bloody diarrhea and potentially life-threatening conditions such as haemolytic uraemic syndrome (HUS), a serious kidney ailment.
The WHO said Saturday that 812 people had HUS, 773 of them in Germany.
"This wave of EHEC and haemolytic uraemic syndrome cases in Germany is the most significant recorded in the world to date," said Nele Boehme, spokeswoman for the Federal Institute for Risk Assessment (BfR).
In Germany, some 100 patients have such bad kidney damage that they need an organ transplant "or will require dialysis treatment for the rest of their lives", said Karl Lauterbach, health expert for the Social Democrats party.
After several frantic weeks of searching, German authorities on Friday said they had identified the source as being vegetable sprouts from an organic farm in Lower Saxony, northern Germany.
The farm has been closed and all its products recalled. The farm cultivated sprouts from a variety of products including lettuce, azuki beans, mung beans, fenugreek, alfalfa and lentils.
Authorities have said though that the farm in the northern village of Bienenbuettel had done nothing wrong, with Gert Lindemann, Lower Saxony agriculture minister, saying it had "high hygiene standards".
With German authorities only late last week dropping advice, particularly in northern Germany, to avoid uncooked tomatoes, cucumbers and lettuce, the scare has cost European farmers hundreds of millions of euros (dollars).
The RKI still recommends not eating raw vegetable sprouts.
Particularly badly hit were Spanish producers after Germany initially and erroneously blamed cucumbers grown there.
The European Commission has offered 210 million euros ($303 million) to farmers affected across Europe.
Russia also banned the import of all fresh vegetables from the whole of the 27-nation European Union. Moscow agreed at a summit with the EU on Friday to lift the ban.