6 worst condiments you can eat— and what you can use instead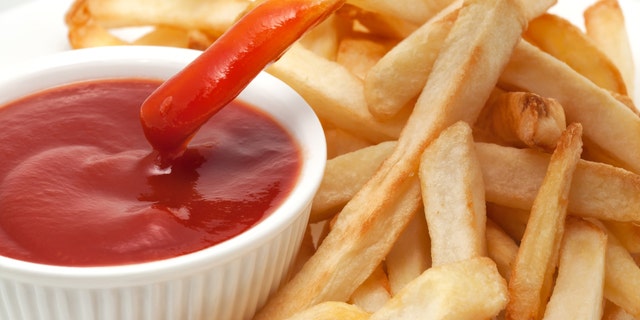 NEWYou can now listen to Fox News articles!
Even if you haven't chowed down on chicken fingers since your School House Rock days, your inner kid still knows that having a special sauce for dipping, drizzling, or dunking makes any meal that much more awesome.
Condiments might not seem like a major player in your overall diet, but even as grown-ups, most of us eat more of them than we think. (After all, have you ever actually busted out a tablespoon to measure the ketchup for your fries?) That's why it's important to pay attention to what's actually in them.
Problem is, once you look at the label, you'll start to find some pretty unsavory stuff. Here are 6 of the worst offenders, plus the better-for-you alternatives that even 10-year-old you can get behind. (Lose up to 15 pounds in just 30 days with this revolutionary superfood plan from the publisher of Prevention!)
Ketchup
It might be made with tomatoes, but that doesn't mean that ketchup counts as an actual vegetable. Considering the fact that it delivers nearly 8 g of sugar per 2 Tbsp serving, it pretty much falls into the candy category. (So that's why it tastes so good!) And chances are, the sweet stuff is coming in the form of high fructose corn syrup, not simple (and slightly less terrible) table sugar.
Can't live without that concentrated tomato flavor? Try organic ketchup made with real sugar. Or better yet, swap your ketchup for chopped sundried tomatoes. (These 15 simple condiment recipes with transform your next burger.)
Barbecue sauce
Bottled barbecue sauce, like ketchup, is mostly a vehicle for sugar—including high fructose corn syrup. (A 2 Tbsp serving has a whopping 12 g of sugar. Yowza.) What's more, many brands get their signature mahogany hue from artificial caramel coloring, which contains chemicals that research findings say could be carcinogenic.
Next time you need a little something to slather on your chicken or ribs, consider making your own barbecue sauce so you can control the ingredients. Or buy barbecue sauce made by a small-batch producer—it's more likely to be free of fake additives.
Light salad dressing
You might save some calories by choosing light dressing over regular (or try one of these healthy DIY salad dressing recipes). But you'll also be dousing your vegetables in sugar and other questionable ingredients. Most light dressings are loaded with the sweet stuff to add flavor without the fat. And they get their rich, creamy texture from added thickeners and emulsifiers. Worst of all? You'll be missing out on most of your salad's nutrition, because your body actually needs some fat to absorb many of the vitamins found in vegetables, like fat-soluble vitamins A, D, E, and K. Makes plain old olive oil and vinegar seem a whole lot more appealing, huh?
Conventional mayonnaise
A 2 Tbsp serving of mayo will run you almost 200 calories. Which, yes, is a lot. But the bigger problem is the fact that most conventional mayonnaise is made with soybean oil, which is usually derived from genetically modified soybeans. Even worse, recent PLOS ONE findings suggest that, compared with other oils, soybean oil could increase risk of obesity and diabetes. (Check out these 17 condiments that should be in every clean eater's fridge.)
If you crave creaminess on your sandwich, opt for hummus, mashed avocado, or organic, non-GMO mayo made with canola or avocado oil instead.
Honey mustard
You might think honey mustard isn't so bad because it's relatively low in fat and calories. But like ketchup and barbecue sauce, it tends to be high in sugar, and it's easy to eat way too much. Plus, the sweet flavor in some conventional brands is more likely to come from high fructose corn syrup than actual honey.
As with most store-bought stuff, you're better off making your own. Especially when doing so is so easy: Just add a drizzle of honey to your favorite mustard, mix well, and eat. (These 3 DIY dressings will forever change your salads.)
Tartar sauce
Because it's basically mayonnaise gussied up with some pickles, most store-bought tartar sauces have all the same bad stuff as mayo. What's more, the creamy, briny dip tends to be eaten almost exclusively with deep-fried seafood. Add a heaping glop of the stuff to your fish and chips, and you're only taking your meal from bad to worse.