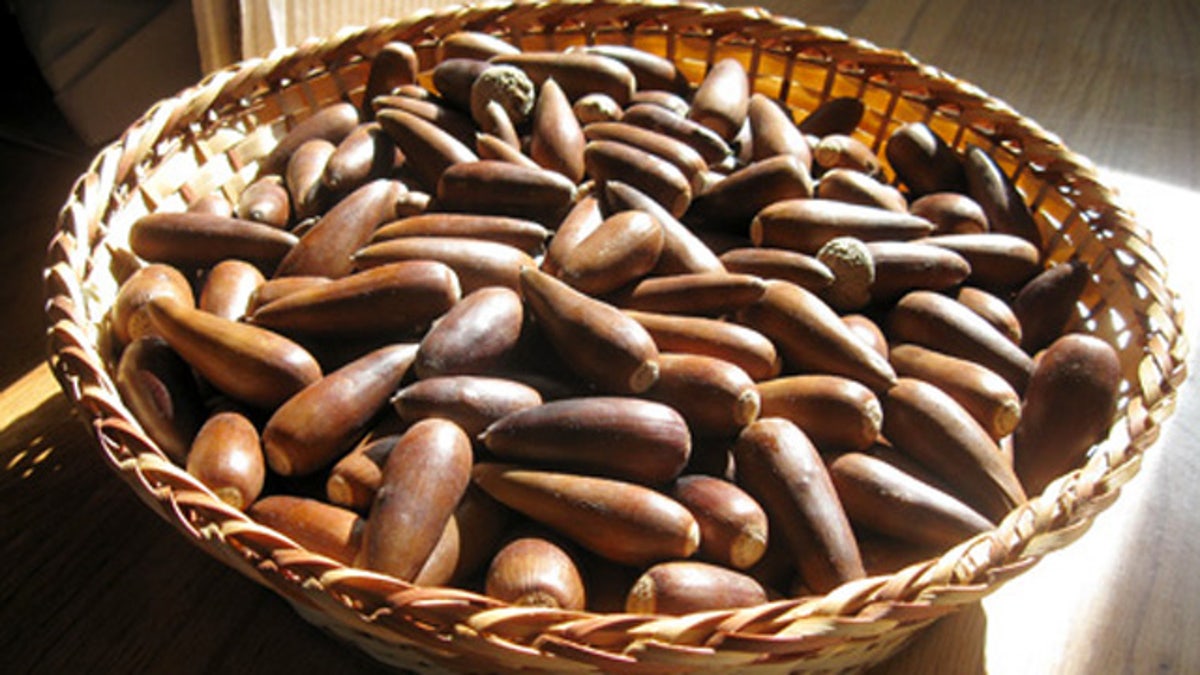 By now, we're all well versed in the notion of farm-to-table and the bounty of farm-fresh products available at the local green market. But hottest trend in uber-locavorism just might be underfoot—literally.
Think park-to-table, or curbside-to-table, or, heck, even crack-in-the-sidewalk to table. It's called foraging – and there's a pigweed or a lamb's quarter or a ginkgo nut just waiting to show up on your Thanksgiving table this year.
Foraging—aka, hunting and gathering—is actually as old as time itself. Remember studying native American and other hunter-gatherer cultures in Social Studies class?
These civilizations sustained themselves with the knowledge of what was edible right underneath their noses—and seeing as it was that same gift of know-how that helped Ye Olde Pilgrims survive those early years in the New World, there's no better time than Thanksgiving to get in on what many chefs have learned is a great source of exciting flavors and nutritionally rich ingredients.
Nothing says Thanksgiving like the sweet-smelling aroma of a Thanksgiving dinner. From plump and juicy turkeys to delectable desserts, send us photos and videos of your Thanksgiving meals.
"There definitely is an interest in foraging, and a lot of it is a sort of evolution of the farm-to-table and locavore movements in food and culture. It's the uber-local," says foraging chef Matt Weingarten of Inside Park at St. Bart's in New York City, and co-author with Raquel Pelzel of the upcoming book The Modern Forager's Guide to Pickling, Preserving, and Curing (Story Books, 2013).
Weingarten got into woodland sourcing during college in the Midwest after taking a class on native plants in southeast Ohio, and from there he was hooked. "It's probably just my nature combined with being a chef -- I love to be out and wandering in the woods and I like to understand whether what's growing is edible or just beautiful. There's this whole modern world we live in but not long ago these things were common knowledge—we had a connection to the planet, not CP codes in the supermarket."
But in urban and suburban areas from New York to Los Angeles and in between, do-it-yourself sourcing appears to be catching on, with professional foragers like Steve "Wildman" Brill who gives edible foraging tours in the East Coast tri-state area, to organizations like ForageSF started by forager Iso Rabins. Rabins created what may well be the first CSF (community supported foraging) model--a group of about 50 foragers who sell their wares to local San Franciscans, and who gives foraging tours and classes on everything from mushroom to native plant identification in the Bay Area.
"I think it's an evolution from the farm to table locavore movement in food and culture to the uber-local," says Weingarten, "It's reflective of where the food movement is going."
As to how you can apply this super-natural know-how to your Thanksgiving table, we've got a few tips. Before you pluck the first pretty leaf you find, get yourself a good field guide, like the gold standard, Peterson's Field Guide to Wild Edible Plants.
Also, knowing where to forage is key, and a surprisingly bountiful number of cities have edible plant courses and websites to check out. And while your local park might be chock-a-block with wild edibles, your local parks department might not allow such sourcing. Be sure to check in with them first, and while you're at it, ask about safe spots—public green areas are often sprayed with pesticides and other poisons. Not exactly the best dressing for your holiday greens.
Hank Shaw, author of the James Beard-nominated Hunt, Gather, Cook: Finding the Forgotten Feast (Rodale), and a food writer and professional forager and hunter in Sacramento, Calif, has stalked native food sources everywhere from Missouri to Central Park in New York City, and has some great suggestions for what you can nab right now.
"Foraging on the East Coast is challenging once the frost hits, but there is still lots out there. Nuts should still be around, especially black walnuts and hickory nuts. Acorns are in their prime right now--I have a whole chapter on how to take the bitterness out of acorns in my book--and you can get a new flush of green leafy things where the weather stays above freezing during the day. Dandelions, chicories, wild lettuces, sorrel, curly dock, [and] lamb's quarters are all available right now if you look hard enough."
Click here to see how to make Acorn Flatbreads.
Shaw also suggests seeking out berries, like wintergreen on the East Coast and huckleberries on the Pacific Coast, and pyracantha, which he says is a late-fall berry that's available all over the country, and happens to make a really nice jelly or sauce, great for leftover turkey sandwiches. Another great, easy to find cranberry sauce substitute: Rose hips, still plentiful and widely available from coast to coast.
"I saw a ton of them two weeks ago at 8,000 feet outside of Fort Collins, Colo.," offers Shaw.
Mushrooms are another great foraging item for the holiday, but Weingarten cautions that you need to know your fungi.
"The thing about mushrooms is you know or you don't—there's no in between. So you have to be careful." Weingarten says that while there are poisonous mushrooms out there, the amount of killer fungus is pretty slender.
Still, getting a good field guide to your area is vital, and learning a few tricks can help.
"There's a method to identifying not by sight, but by character attributes, like color and structure. You can try spore printing, but taking the head of a mushroom and leaving it on paper overnight. It makes a distinct pattern where spores drop and you can match those attributes and it will tell you what kind of mushroom you have. It's a good cross reference."
But depending on where you live, once you learn there's a bounty of porcini, chanterelles, hedgehogs, black trumpets, matsutake, and coral mushrooms ("They look like little bright orange tiny pieces of sea coral," says Weingarten) for the taking this time of year.
"There will be things to find if you know what to look for," says Shaw. "But in the East and Midwest, get crackin', because once you get the deep freeze, your foraging season will largely be over. Gather ye acorns while ye may!"