World's longest pizza shatters Italian record, extends for over a mile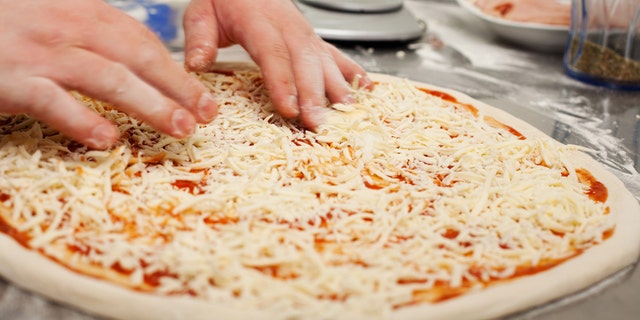 NEWYou can now listen to Fox News articles!
The world's longest pizza, which ended up spanning over 6,333 feet, was produced by a team of chefs on Saturday morning at Auto Club Speedway in Fontana, Calif.
The original plan was to create a pizza 7,000 feet in length, but once the cooks had safely secured the Guinness World Record for the longest pie — surpassing the 6,082-foot (and 3.4-inches) pizza made in Naples, Italy, in May 2016 — they called it quits and began to cook the new record-holder.
AMTRAK PASSENGER HAS PIZZA DELIVERED TO BROKE-DOWN TRAIN, SAYS HE WAS 'HANGRY'
The idea for this record-breaking attempt at the world's longest pizza was initiated by a slew of American chefs who had heard about the pizza created in Italy, and knew they had to try to bring the title to America.
The charge was led by Fash Asvadi, the founder of PizzaOvens.com, who earned donations for the attempt through sponsors, reported LA Weekly.
Appropriately for a pizza assembled on a racetrack, the cooking process was surprisingly a speedy one.
Volunteers laid out a special oven that cooked the pizza at 17 feet per minute, blasting the pie with intense heat of between 700 and 1000 degrees Fahrenheit, depending on reports.
NEW YORK CITY'S NEWEST PIZZA WAS BLESSED BY THE POPE
RT.com estimated that there was over 5,000 lbs. of sauce and over 3,000 lbs. of cheese that topped this massive pizza, which itself was estimated to weigh around 17,000 lbs.
Guinness representatives were on hand to certify the new record, and tweeted out on Monday morning that the Fontana Pizza had officially broken the world record for the world's longest pizza.
Once the workers had helped themselves to a little bit of the pie, the rest was donated to homeless shelters, RT reports.