What the heck is ice wine, anyway?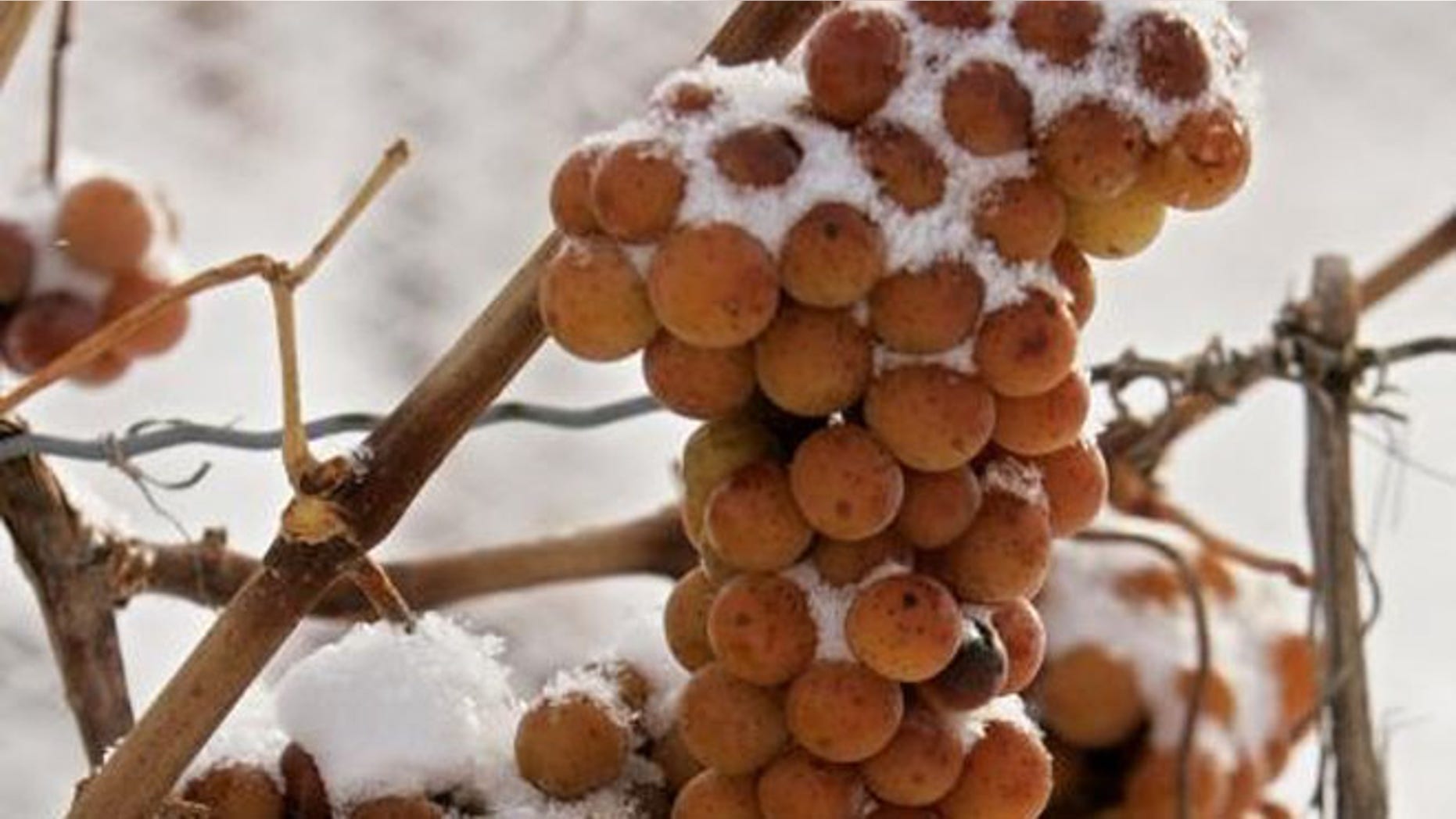 In certain parts of the world, long after the traditional harvest has ended, even as late as winter, you'll find some very special grapes still hanging on the vine … waiting.
Waiting for what? A big freeze.
Whether you call it ice wine in the U. S., icewine in Canada or "eiswein" in Germany, it's all the same: a dessert wine created from ripe grapes that are left to freeze on the vine, harvested and immediately pressed to extract their juice. Because the water in the grapes is frozen, the water crystals are discarded during pressing and the super-concentrated, sugary juice is extracted – but only a small amount, so yields for ice wine are far below those of regular table wine. What's more, birds and wild boar love the taste of the sweet berries as they ripen, further reducing yields. From unpredictable weather to unrelenting vineyard pests, ice wine production is a big gamble for the grower. On average, only about 5 to 10 percent of the original crop actually ends up as ice wine.
Eiswein was first produced in Germany in the 1700s when one year, freezing weather blew in before harvest and froze the grapes on the vines. The winemakers proceeded to make their wine as planned, and the result was the sweet nectar we now call eiswein. German immigrants brought the practice to Canada, where icewine found commercial success in the 1970s. Ontario and British Columbia have the best climates for reliable production, which requires warm, sunny days to allow the grapes to ripen and cold, but not frigid, winters. Germany and Canada lead the world in ice wine production, though it also is made in Austria, Oregon and Michigan.
Each region has its own style, due to slight differences in production, but eiswein is still the benchmark. It falls into the highest level of the German quality pyramid, and its production is strictly regulated by German wine law. Eiswein must be made from grapes that freeze naturally on the vine, which unfortunately doesn't happen every year. That's why almost none was produced in 2006 and 2011.
Eiswein is distinguished from other well-known German dessert wines, including beerenauslese and trockenbeerenauslese, which are made from shriveled late harvest grapes affected by botrytis, also known as noble rot. Eiswein is made from healthy, pristine grapes – usually Riesling – that produce a richly complex and balanced wine with notes of apricot, honey and spice. Despite its sweetness, Eiswein is usually beautifully balanced by a firm backbone of acidity.
Icewine production in Canada is strictly governed by the Vintners Quality Alliance, which mandates that the grapes must reach temperatures of at least 18 degrees Fahrenheit before harvest and that their sugar levels must reach at least 35 degrees Brix. All Canadian icewine is varietal wine produced from vitis vinifera grapes, most commonly Cabernet Franc and Riesling. The only exception is the French hybrid Vidal Blanc, which has low levels of alcohol and at least 125 g/L (measurement of residual sugar) in the finished wine. Canadian icewine is known for its honeyed, rich notes of tropical fruit like pineapple and lychee, balanced by the wine's hallmark acidity.
Outside of these traditional regions, there are winemakers who use cryogenic extraction, an artificial means of freezing grapes that offers more control over production. Proponents say this method produces a cleaner, more consistent product that can be made more consistently and less expensively, without the problems of unpredictable weather and wild boar. But while this method may offer more control, these wines cannot be labeled ice wine. So they're given names like iced wine, icebox wine or even Vin de Glacière. But for true fans of ice wine, it's the unpredictability, inconsistency and rarity that make this product so special.