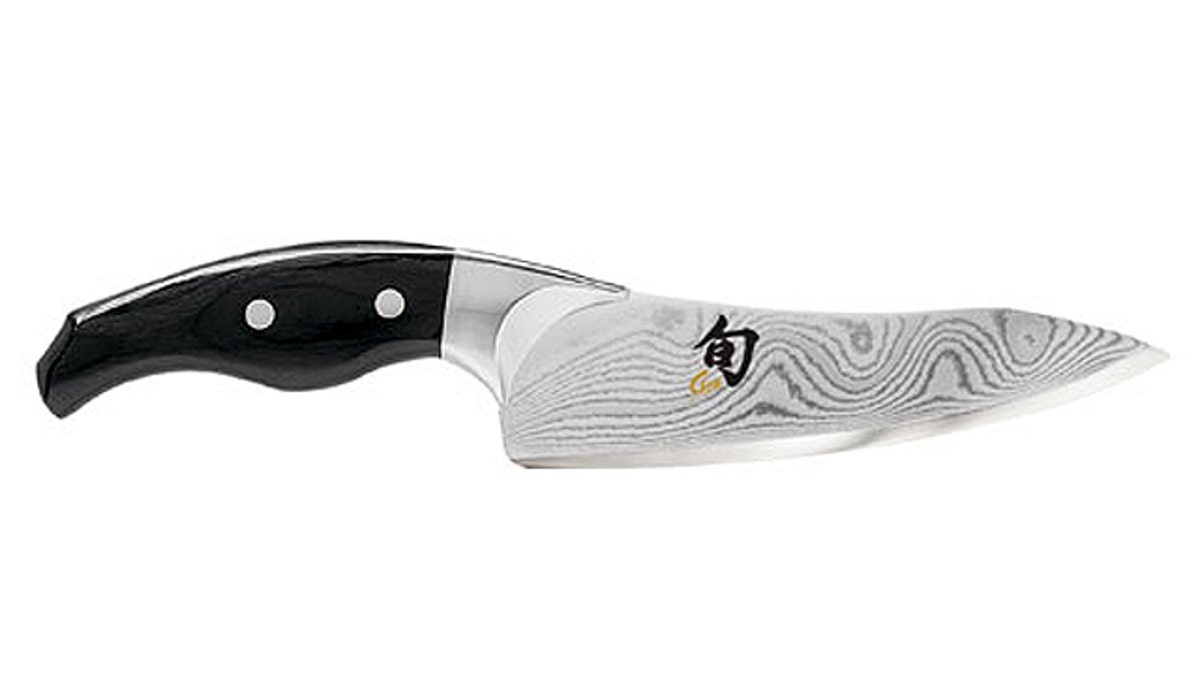 While all you really need is one good chef's knife, the modern version—combining Japanese, German, and American design—comes in a dizzying array of options. Here are three rules for chop shopping.
Size It Up: While professional chefs wield 12-inch blades with abandon, home cooks should get a knife with a blade around 8 inches in length. Residential-kitchen counters, nonindustrial cutting boards, and civilian muscles can't handle anything much bigger than that.
Weigh In: Before you buy, consider how you tend to use a knife in the kitchen. If your idea of a good time is spending 20 minutes chopping vegetables into a fine brunoise or breaking down a brace of hens, then go with a heavy knife that can take the action. If you slice and dice only when you need to, a light knife can be just right.
Get a Grip: Heft a few knives for comparison. You want a handle that's secure in your fingers, neither too big nor too small. You'll know when you find the right one—it'll feel like a natural extension of your arm.
Stick To It: If you're going to buy a beautiful knife, why not show it off on a magnetic knife bar, like the one above? It's more space-efficient than a block, and it's easier to keep clean. Grundtal magnetic knife rack by Ikea, $9, ikea.com
Knife-Geek Chic: Gyutou
Unlike traditional Western knives, which are sharpened on both sides of the blade, Japanese-inspired Gyutous are sharpened on just one side for right- or left-handed cooks. Perhaps the most fetishized style among knife geeks (including Del Posto's Mark Ladner, who chopped Mario Batali's team to victory with a Glestain Gyutou on Iron Chef America), the Gyutou's blade is insanely sharp, but fragile. Use it only on softer cutting boards like those made from wood or cork. Glestain indented blade 8.2-inch Gyutou, $158, korin.com
Japan-Easy: Japanese Vegetable Knife
While you won't be able to do the food-reality-TV favorite rock-and-chop chiffonade trick, this cleaver-like shape is still great for everyday use. It's a traditional Japanese knife specifically designed for cutting vegetables (Nakiri is the name of the style), but it makes a beautiful all-around chef's knife. Tojiro Damascus 7-inch Nakiri, $80, chefknivestogo.com
Achtungsten, Baby: German Chef's Knife
This classic style remains the platonic ideal of kitchen cutlery: The handle is full tang (knife-geek speak for a full-metal handle secured with three rivets), the blade is deeply sloping, the dimpled indentations keep the side of the knife from sticking to fruits and vegetables, and the W in Wüsthof is pronounced like a V. Instead of the classic black handle, this knife sports an elegant white polymer grip. Wüsthof Classic Ikon Crème 8-inch cook's knife, $100, cutleryandmore.com
A Cut Above: The Designer Knife
Knife designers worship Ken Onion. (Yes, that's his real name. Yes, he knows it's funny: "Chive" and "Scallion" are the names of some of his designs.) He breaks the mold again with this unconventional design for Shun, a favorite in our test kitchen for its exceptional ergonomics. The exaggerated curve of the edge makes for a smoother rocking motion when chopping. Ken Onion by Shun 8-inch chef's knife, $200, kitchenkapers.com
The New Standard: Santoku
Santoku is Japanese for "three virtues," which sum up the appeal of this knife style: It's ideal for vegetables, meat, and fish, thanks to its smaller size; it weighs less than other chef's knives; and it has become the default knife style for telegenic chefs and the cooks who watch them. Global's radical design rocked the culinary world when it debuted more than two decades ago. The blade and handle are forged from a single piece of steel. Dimples on the handle make it easier to grip and less prone to slip. Global Santoku 7-inch hollow ground, $120, williams-sonoma.com
Also from Bon Appetit: