The secret ingredient for perfectly fried eggs, every time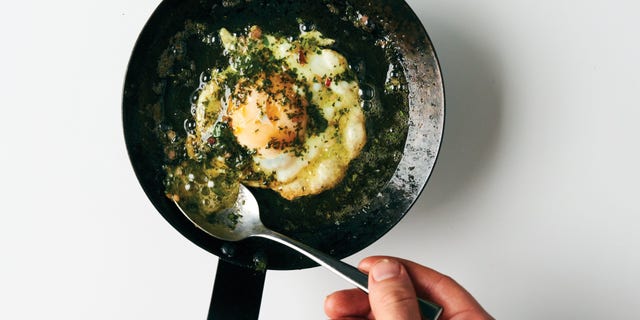 If you don't know this trick for the greatest fried eggs, let us help you crack the code: Carefully basting your whites with oil from the pan ensures that they set all the way through as the edges crackle and crisp away, and the yolk is left gloriously runny.
But what if we told you there was an even better way? Same method, more flavor. Nick Korbee, chef at Egg Shop in New York City and author of the restaurant's bestselling new cookbook, bastes his fried eggs in compound butter. Here's how.
They are, in his words, an "elegant accessory" to your basic breakfast. The best part is that you can make the butter ahead of the game, stock it in your fridge (it lasts about two weeks or can freeze for longer), and use it when you want to seem thoroughly impressive but lack the time or energy or ingredients to make elaborate flatbreads. Here are a couple of his favorite combinations, though there are more in the book (goji açai butter! mocha bacon butter! hot pickle butter!!!). The world is your compound butter.
The Egg Shop's signature Herb Butter "will not get you stopped by the police at the airport," Korbee writes. Ha! It's their take on a beurre Maître d'Hôtel (AKA fancy French compound butter).
Grate 2 garlic cloves, zest 1 lemon, finely chop 1 shallot and add those to a bowl with room temperature butter. Then finely chop the leaves from 1 bunch of flat-leaf parsley and enough basil to get you ¼ of a cup. Throw those in, too, along with a pinch of salt, and mix with a rubber spatula until combined.
For tomato-caper butter, melt 2 tablespoons of your butter to sauté 2 marinated canned white anchovies and ¼ cup of brine-packed capers (not salt-packed). You want the anchovies to start to brown and the capers to become fragrant. Add a scant ½ cup of tomato paste and cook over a low heat for about 15 minutes. Take the mixture off the heat and let it cool. Pour it over the rest of your room-temperature butter, along with 1 tablespoon of balsamic vinegar and mix until combined.
The method for basting: Melt a pat of butter in the pan over medium heat (the butter should not "sputter out of control," writes Korbee — that would mean the pan's too hot) and then crack the egg on top. Once the bottom is firm enough that it slides around with ease, add a second knob of butter. As that melts, getting all fizzy and nutty and delicious, carefully tilt the pan so the butter pools at the edge and you can easily scoop some with your spoon to drizzle over the whites. Repeat until no goopy parts remain and finish with a bit of sea salt.
You can use these compound butters in other dishes, too. Korbee puts the goji acai flavor on french toast, the tomato-caper flavor on a pecorino tartine, and the hot pickle butter as the outside of his grilled cheese. I plan on employing the herb butter the next time I make steak and I think it's safe to say I will not be disappointed.